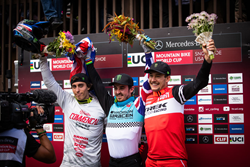 Danny did a really good run and I'm stoked for him it was so close so many times this year that he deserves it. If he had ended up in second place I would have won the overall, but that's racing. It was that close. It's beautiful. I'm just angry now for next season! - Amaury Pierron
SNOWSHOE, W.Va. (PRWEB) September 09, 2019
Monster Energy's Danny Hart, Amaury Pierron and Charlie Harrison sweep podium at the final UCI Mountain Bike World Cup in Snowshoe, West Virginia. Teammates Amaury Pierron and Troy Brosnan took second and third in the overall World Cup rankings.
Hart(GBR) took home a nail biter of a victory at the final MTB DH World Cup of the 2019 season. The "Redcar Rocket" backed up a first place qualifying time by putting down a heater of a run as the last man left on the mountain who could beat Monster Energy teammate Pierron's (FRA) blistering time.
It's been a minute since international racing made a stop in West Virginia, and the return left a smile on everyone's face. At just over three minutes in length, the track here features huge jumps, awkward technical rock gardens and high-speed grassy corners. With a little bit of everything, it kept racers puzzling right down until race day on which lines would come out on top, especially when every run a new rock would end up sitting directly in the race line. Normally greasy, the track here dried out in time for racing and speeds went through the roof in the rock gardens.
Hart was skeptical of the track at first glance, but learned to enjoy it. "I made up for this season and the win eventually happened," said Hart. I didn't really like the track when I walked it, but with each run it got better and better. I actually really enjoyed it in the end. I didn't change my World Cup overall position with the win, but I easily could have lost it so I'm happy!"
Pierron was sitting right behind him in second position. "I just put down a good run, and tried to go for the win," said Pierron. I did a bad mistake at the bottom that maybe cost me the race. Danny did a really good run and I'm stoked for him it was so close so many times this year that he deserves it. If he had ended up in second place I would have won the overall, but that's racing. It was that close. It's beautiful. I'm just angry now for next season!"
"This season was really good with three wins. I was only off the podium twice and my worst place was 7th, so it's really good. I'm stoked! It was a new venue and the track and the rock gardens were so good. The crowd was insane and it was good to race in front of a cheering crowd like that! I'm not ready for next year yet, I'll take a break, but I'm so excited, racing is beautiful!"
Joining his teammates in the one, two, three sweep of the podium for Monster Energy was Monster Army's Charlie Harrison (USA). His first ever world cup podium comes at home in the USA and put him in the bronze medal position.
"What an insane weekend. I can't believe I was able to finish the season off with a solid result in front of the home crowd, said Harrison. The fans were insane and it was such a humbling experience to see how happy everyone was for me. It's been a crazy season with ups and downs, but I am super thankful for all of it. Thanks to everyone that made it such a memorable day!"
The final race of the season means the overall world cup hardware is distributed and it was a haul for Monster Energy Athletes taking 2, 3, 4, 5, 8, 13, 14 and 17th in the overall ranking. Pierron was 40 points off of the overall title, but it came down to the last run of the last race of the season and unfortunately pushed the Frenchman into second. Brosnan was consistently in the 3rd position overall. The young Aussie has been in the top three of the overall for the past 6 years in a row.
"Honestly it was a hard one after Worlds after I put so much focus into that," said Brosnan. I just felt tired all week. I was riding good, but never just had that edge to push it. I can't complain with 3rd place, I'm looking forward to next year, I'm excited!"
Hart maintained his 4th place overall finish with the win today, and Loris Vergier (FRA) took 5th. Mark Wallace (CAN) was 8th after a great season while Harrison and Luca Shaw (USA) were 13 and 14th. Connor Fearon (AUS) was 17th.
The season is now done and everyone can head home to lick their wounds, let the bruises fade and take some time off before heading into training season and prepare for continued domination in 2020.
Download photos for editorial use.
For more Hart, Pierron, Harrison, Brosnan and the rest of the Monster Energy team visit monsterenergy.com and make sure to follow Monster Energy's YouTube, Facebook, Instagram & Twitter for exclusive updates.
About Monster Energy: Based in Corona, California, Monster Energy is the leading marketer and distributor of energy drinks and alternative beverages. Refusing to acknowledge the traditional, Monster Energy supports the scene and sport. Whether motocross, off-road, NASCAR, MMA, BMX, surf, snowboard, ski, skateboard, or the rock and roll lifestyle, Monster Energy is a brand that believes in authenticity and the core of what its sports, athletes and musicians represent. More than a drink, it's the way of life lived by athletes, sports, bands, believers and fans. See more about Monster Energy including all of its drinks at http://www.monsterenergy.com.