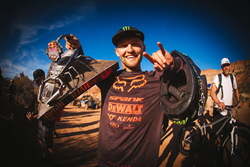 As of now there's not one thing that is gnarlier than what went down at Rampage, it was insane! Everyone crushed it. Everyone went in to build a winning line this year, so coming out top three I'm pretty stoked! - Ethan Nell
VIRGIN, Utah (PRWEB) October 28, 2018
Monster Energy's Ethan Nell (USA) takes home the bronze medal at mountain biking's legendary big mountain event, Rampage, where the world's greatest freeride mountain bikers transform the unforgiving new terrain of Southern Utah and descend upon some of the most challenging, steep and technical terrain for a chance to hit the top of the coveted podium.
Located on the edge of Zion National Park in Utah, 2018's Rampage zone was nothing for the faint of heart. Steep, exposed and filled with line choices, the new ridge line delivered in spades as athletes spent a week with their two-person build crew carving jumps and landings into the hillside as they plotted their own unique lines down the unmarked face of the red cliffs of Zion. Rampage is the only professional event on earth where competitors are tasked with building their own track down the mountain tailored to their individual style and allowing their creativity to shine through on the unforgiving new terrain.
A Utah native, Nell matched his rookie performance of last year with another respectable 3rd place against 21 of the world's greatest freeriders.
"This was a huge dig week at this new venue," said Nell. We had to build a top to bottom line, which was super gnarly. We built some big features and had some stressful situations coming into today without a lot of practice. It was also pretty windy this morning, and half of our day was wasted due to rain. It was great to just get everything done and it's a lot less stress now! As of now there's not one thing that is gnarlier than what went down today, it was insane! Everyone crushed it. Everyone went in to build a winning line this year, so coming out top three I'm pretty stoked!"
The 21 year old charged down the mountain putting together a run that included a suicide no-hander off the very first feature out of the start gate and a massive step down backflip. He followed that up with another suicide no-hander off of the biggest feature on the mountain ¬— a 55-foot drop that many riders took smaller options around. He finished up with a flat spin 360 off the trick jump near the finish corral and solidified a place in the Rampage record books with another podium finish.
Monster Energy's Adolph Silva (ESP) took home the People's Choice award in his first year of competition in the event. People's Choice is voted on by fans via the Internet for their overall impression of a run. Silva's run included one of the largest drops that Rampage has ever seen at speed, and the Spaniard somehow hung on through a massive head bob on landing after going extremely deep down the landing.
Best trick went to Monster Energy's Tom van Steenbergen (CAN) for his insane flat drop backflip off of the biggest cliff on the side of the mountain. Van Steenbergen also took home 4th place overall.
"This year was the most dangerous venue yet because of all the big cliffs," said van Steenbergen. Obviously every year there are big drops, but this year the cliff bands were a bit bigger and the drops were way bigger than last year's. I'm super stoked to pull that flip off. It's all I've been thinking about this week. Fifty-five feet from tip to tip and I went a little deep so I probably went 60 feet off a cliff. I don't know if I can go much bigger than that! After that I did the rest of my run blind because after the flip my helmet slipped down and my nose went inside of my goggles so I couldn't see anything for a bit. I tried to adjust it just in time for the final flip on the trick jump. I had more planned down there, but I was just stoked to land that flip. Next year we have a lot of things to improve on except for that drop, I can't go any bigger than that!"
Finally, Monster Energy's Brendan Fairclough (GBR), the racer turned free racer took home the Kelly McGarry Spirit Award. The trophy goes to the rider who best embodies McGarry's positivity, friendliness and absolutely never gives up.
"I am super happy to come away with the Kelly McGarry Award, said Fairclough. After 10 days out in the desert digging and putting the runs together was cool so to get that award was a nice little cherry on top. Obviously super gusted with the result, but to come away with that award was a nice touch."
Download High Res Photos for Editorial Use.
Unfortunately, Monster Energy's Cameron Zink who is a past winner of Rampage and holds many titles had to pull out last minute because of a shoulder injury. For more on Nell, Silva, van Steenbergen, Fairclough, Zink, and the rest of the Monster Energy team visit monsterenergy.com and make sure to follow Monster Energy's Facebook, Instagram & Twitter for exclusive updates.
###
About Monster Energy: Based in Corona, California, Monster Energy is the leading marketer and distributor of energy drinks and alternative beverages. Refusing to acknowledge the traditional, Monster Energy supports the scene and sport. Whether motocross, off-road, NASCAR, MMA, BMX, surf, snowboard, ski, skateboard, or the rock and roll lifestyle, Monster Energy is a brand that believes in authenticity and the core of what its sports, athletes and musicians represent. More than a drink, it's the way of life lived by athletes, sports, bands, believers and fans. See more about Monster Energy including all of its drinks at http://www.monsterenergy.com.