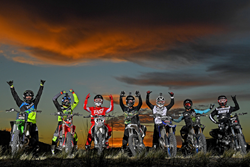 It's not just about being able to jump a metal ramp and doing a trick, it's about taking it back to where it all started, in the hills. It's about bringing the new school of riders and tricks to the old school - Jackson Strong
Corona, California (PRWEB) March 23, 2019
Monster Energy is proud to announce today's television premiere of the groundbreaking freestyle motocross feature Jackson Strong's Moto X Dirt Part 2 on ABC's 'World of X Games' at 2 p.m. ET / 3 p.m. PT. Filmed in New South Wales, Australia. The high-definition 45-minute video showcases seven-time X Games medalist Jackson Strong pushing the sport's progression alongside the world's top FMX riders.
The stacked field of seven featured motocross freestylists includes Strong's Monster Energy teammates Taka Higashino, Josh Sheehan and upcoming rookie Ben Richards, next to Colby Raha, Clinton Moore, Jake Smith and Lewis Woods. As the perfect canvas for the squad to write motocross history on, Strong designed and built of one of the largest and most innovative FMX courses to date in Lockhart, Australia.
Filled with jumps of epic proportions, the massive dirt course in the Australian outback is significantly larger in size than the first Moto X Dirt set-up in 2017. The design was inspired by Strong's roots as a BMX rider. The track features six jumps with a 120-foot gap – a traditional freestyle ramp is 75-foot – arranged back-to-back in a line as the ultimate test of skill and timing.
"I've hit big jumps and hills before, but to have this many in a row – a 120-footer and six of them – is pretty gnarly. I don't think there's anything like that," said decorated FMX rider Colby Raha from California upon seeing the course.
Strong's goal behind filming the second installment of Moto X Dirt on the demanding course was to push the progression of big jump free riding and present his vision of what freestyle motocross should be.
"It's not just about being able to jump a metal ramp and doing a trick, it's about taking it back to where it all started, in the hills. It's about bringing the new school of riders and tricks to the old school," said Strong, who came into the event freshly recovered from last season's leg and ankle injury.
After six days of intense building and shaping, the course was ready for the world's best riders to come and take it to the next level in a free-flowing progression session. First impressions were daunting, but the handpicked squad of riders was ready to rise to the challenge.
"Until you actually go there and see the size of these things… the risk is on a whole 'nother level," said FMX underdog Jake Smith. "I have to be careful. I'm a little nervous, but I like to send it," said Monster Energy's Higashino, FMX pioneer and five-time X Games medalist.
And send it they did. With no judges or spectators, this was an event strictly by the riders for the riders – and the perfect scenario for pushing the limits.
"We just started doing flip tricks and felt pretty comfortable, so we did some big ones. That's what happens when you're riding with your mates, you just feed off each other," said Sheehan, Monster Energy team rider and eight-time X Games medalist. "This was the best ever – the most fun I ever had," said his Monster teammate Richards.
Despite the free-flowing format, the crew did hand out a few awards for groundbreaking achievements in an all-week jam format, including: Best on the Ground, Dirtiest Trick, Sketchiest Moment, Most Improved, Best Whip and Biggest Upright Combo.
But we're not going to give away any spoilers… To find out what tricks went down and who walked away with an award, make sure to watch Jackson Strong's Moto X Dirt Part 2 presented by Monster Energy on ABC's 'World of X Games' at 2 p.m. ET / 3 p.m. PT. today.
Download high-definition photos from the set of Jackson Strong's Moto X Dirt Part 2 for editorial use.
Visit http://www.monsterenergy.com and follow Monster Energy on Facebook, Instagram, Twitter for exclusive updates.
###
About Monster Energy
Based in Corona, California, Monster Energy is the leading marketer and distributor of energy drinks and alternative beverages. Refusing to acknowledge the traditional, Monster Energy supports the scene and sport. Whether motocross, off-road, NASCAR, MMA, BMX, surf, snowboard, ski, skateboard, or the rock and roll lifestyle, Monster Energy is a brand that believes in authenticity and the core of what its sports, athletes and musicians represent. More than a drink, it's the way of life lived by athletes, sports, bands, believers and fans. See more about Monster Energy including all of its drinks at http://www.monsterenergy.com.