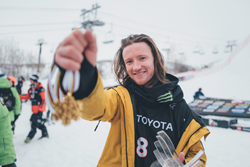 It feels good. Obviously, I couldn't be more proud. I've put a lot of effort in over the years as everybody has. And the crowd was bumping! It was nice that so many people came out because it's cold - James Woods
PARK CITY, Utah (PRWEB) February 11, 2019
Monster Energy's James Woods is the new Freeski Slopestyle World Champion! Monster Energy congratulates its team of freeski athletes on a stellar performance at the 2019 FIS Freeski World Championships in Park City, Utah. As the year's biggest event on the International Ski Federation (FIS) calendar, the 2019 FIS World Championships saw 700 of the world's best winter sports athletes from 35 countries compete for medals from February 1–10, 2019 in disciplines across skiing and snowboarding.
When all was said and done, Monster Energy freeski athletes took home medals in all key events, including gold in Men's Freeski Slopestyle (James Woods), silver and bronze in Women's Freeski Halfpipe (Cassie Sharpe and Brita Sigourney), as well as silver and bronze in Men's Freeski Big Air (Henrik Harlaut and Alex Beaulieu Marchand ABM). The event was overshadowed by the year's biggest winter storm that forced the cancellation of Tuesday's Snowboard Big Air event and placed Wednesday's Ski Slopestyle competition in jeopardy.
Despite low visibility and challenging wind conditions, Woods from Sheffield, Great Britain found his lines on the Men's Freeski Slopestyle course. Fresh off a strong bronze medal finish in Ski Big Air at the recent edition of X Games Aspen, the 27-year-old secured the World Championship title on his second run: 'Woodsy' demonstrated technical rail mastery with moves such as switch right 450 disaster on the kink rail and 180 on switch 360 off the roof, before hitting the jump section with back-to-back switch right 900 mute, left double cork 1080 safety to Japan, and right double cork 1260 toxic for 86.68 points and the gold medal.
"It feels good. Obviously, I couldn't be more proud," said James Woods upon winning 2019 FIS Freeski Slopestyle World Championships. "I've put a lot of effort in over the years as everybody has. And the crowd was bumping! It was nice that so many people came out because it's cold."
Unfortunately, Wednesday's Women's Freeski Slopestyle competition had to be cancelled due to inclement weather and concerns over the athletes' safety. Park City had been pummeled with 45 inches of snowfall within four days, creating severely challenging course conditions.
Before the storm, the Monster Energy team started stacking medals on Saturday, February 2, in the inaugural Freeski Big Air World Championships at Canyons Village resort in Park City. In front of thousands of spectators, the nighttime event showcased spectacular aerial stunts from eight finalists hitting the massive jump in a three-run session. The winner was determined by adding the two highest-scoring runs.
Monster Energy's Harlaut from Sweden came into the event hungry for a medal after closely missing the podium at X Games Aspen 2019. Digging deep into his technical bag of tricks, the 27-year-old freeski aerial innovator sent two perfect jumps across the gap: A highly progressive switch left triple 1440 mute and a fast-spinning forward double cork 1620 – that's four-and-a-half rotations – earned Harlaut 184.00 points and the silver medal.
Joining him on the podium was teammate ABM, who had just claimed Big Air silver at X Games Aspen 2019. In the highly contested final, the 24-year-old all-terrain rider posted a left side triple cork 1260 and switch left side triple 1440 Japan for 183.25 points and a bronze medal finish in a historic night for the sport.
This marked the first-ever Freeski Big Air medal competition in the FIS World Championships and the event has also been included as an official discipline in the 2022 Beijing Winter Olympic Games.
The Monster Energy team continued to claim podium spots in Women's Freeski Halfpipe on Saturday, February 9. Under overcast skies on Park City Mountain in front of an enthusiastic crowd, this was the final freeski event of the 2019 FIS World Championships.
Monster Energy's Sharpe from Comox, Canada, entered the competition as a podium favorite after taking halfpipe gold at X Games Aspen 2019. Posting a perfect routine on her first run, the 26-year-old reigning Olympic gold medalist landed a right side 900 into left side 900, right side 720, switch left 360 followed by a huge straight air into a high-flying left 1080 finisher for a massive 94.40-points score. Cassie held on to her lead until last attempts but had to settle for silver when Estonia's Kelly Sildaru came in a fraction of a point ahead with a 95.00-point run.
Sharpe was joined on the podium by teammate and 2018 Olympic bronze medalist Sigourney from Carmel, California. Standing her ground in a heated finals session, the 29-year-old sent a perfect run down the massive halfpipe on Park City Mountain with moves including huge right mute grab, alley-oop air, right 900 tail grab, alley-oop 540, left side 540, and a big right cork 720 for 90.60 points and the bronze medal.
The double podium in Women's Freeski Halfpipe is the exclamation point on a standout performance at the 2019 FIS Freeski World Championships in Park City.
Download photos for editorial use.
Visit http://www.monsterenergy.com and follow Monster Energy on Facebook, Instagram, Twitter for exclusive updates on our Freeski athletes.
About Monster Energy
Based in Corona, California, Monster Energy is the leading marketer and distributor of energy drinks and alternative beverages. Refusing to acknowledge the traditional, Monster Energy supports the scene and sport. Whether motocross, off-road, NASCAR, MMA, BMX, surf, snowboard, ski, skateboard, or the rock and roll lifestyle, Monster Energy is a brand that believes in authenticity and the core of what its sports, athletes and musicians represent. More than a drink, it's the way of life lived by athletes, sports, bands, believers and fans. See more about Monster Energy including all of its drinks at http://www.monsterenergy.com.