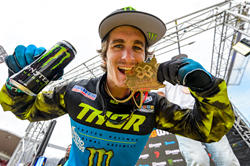 I have been waiting to come home and get a medal on home soil. Thanks to everyone for coming today and supporting action sports - Jarryd McNeil
SYDNEY (PRWEB) October 21, 2018
Monster Energy congratulates its team of motocross riders on a strong performance with Monster riders taking podium spots in both motocross events on the final day of X Games Sydney 2018, including Jarryd McNeil's fourth career Moto X Best Whip gold medal. Teammates Axell Hodges took bronze in Moto X Best Whip and Josh Sheehan took bronze in Moto X Best Trick.
The day's motocross action at the first-ever X Games on the Australian continent kicked off at 1:30pm local time, as the enthusiastic crowd at Spotless Stadium inside Sydney Olympic Park cheered on the sport's biggest names. In the aftermath of last night's rain shower, riders had to deal with a muddy dirt track and imperfect landings, plus a highly limited practice time before the competition commenced.
The Moto X Best Whip event saw 12 of the world's best freestyle motocross athletes – including six Australians – looking to land the most contorted sideways-flying aerials, called 'Whips', humanly possible.
Monster Energy's Sheehan, who took silver in last night's Moto X Freestyle event, seemed like a shoe-in for a podium spot with massive turndown-style Whips, but had to settle for fourth place with a 90.00 point score as the competition intensified. No stranger to flying sideways in a massive way, Hodges from Encinitas, California made the final six as the only American rider. Known as a strong contender in Best Whip competitions, the 22-year-old stoked the crowd with a stylish turndown Whip plus a rare turn-up style Whip for added variety, earning 91.00 points and a solid bronze medal finish.
The biggest story of today's Best Whip contest was defending gold medalist McNeil aiming for a historic fourth gold medal in the event. Straight out the gate, the 27-year-old from Yarrawonga, Australia went all-out with high-flying seat bounce-style Whips, practically turning upside-down in mid-air. Cheered on by the high-energy Australian crowd, McNeil upped the ante with a one-footed seat bounce Whip for the X Games history books, kicking one leg out as he flew upside down over the dirt jump for a 96.00 point total score and the win.
"I have been waiting to come home and get a medal on home soil," said McNeil upon winning Moto X Best Whip gold. Thanks to everyone for coming today and supporting action sports!"
Closing out the weekend's motocross action, six finalists set out to land the highest-scoring aerial in Moto X Best Trick. Monster Energy team rider and five-time X Games medalist Taka Higashino set the bar high with a double backflip over the kicker on his first attempt. But in light of the risky landing due to rainy conditions all weekend, the first Japanese motocross athlete to ever medal at an X Games (2010) decided to put safety first and forfeited his second run.
Higashino's teammate Sheehan, who competed in every single Moto X event at X Games Sydney and took silver in Moto X Freestyle last night, was ready to put it all on the line. Despite the muddy landing and slick dirt track, the 32-year-old motocross icon landed a perfectly executed no-handed double backflip – taking both hands off the handlebar while spinning through the air – for a strong 90.66 point score and a bronze medal finish, while fellow Australian Rob Adelberg took the win.
From a medal perspective, the inaugural X Games Sydney helped Monster Energy team riders bolster their medal counts: Today's Moto X Best Whip gold brings McNeil's X Games track record to twelve medals (seven gold, three silver, two bronze). He earned eight out of these medals in Best Whip, four of them gold. His teammate Sheehan now holds eight medals (one gold, four silver, and three bronze). And after claiming his second back-to-back bronze medal in Moto X Best Whip, Hodges now has one gold, two silver, and two bronze under his belt in what is only his third year at X Games.
Download photos for editorial use.
For X Games fans in the United States who missed the action, four hours of event recap coverage will air on ABC as part of the World of X Games series, beginning Sunday, October 28. Fans can also follow the latest news and highlights across ESPN digital platforms, including XGames.com and X Games pages across Twitter, Facebook, Instagram, Snapchat and more.
Score all the exclusive updates from X Games Sydney 2018 including photos and contest results at http://www.monsterenergy.com. Follow Monster Energy on YouTube, Facebook, Instagram & Twitter, and watch the official Monster Energy hashtag #unleashedatx on social media.
###
About Monster Energy
Based in Corona, California, Monster Energy is the leading marketer and distributor of energy drinks and alternative beverages. Refusing to acknowledge the traditional, Monster Energy supports the scene and sport. Whether motocross, off-road, NASCAR, MMA, BMX, surf, snowboard, ski, skateboard, or the rock and roll lifestyle, Monster Energy is a brand that believes in authenticity and the core of what its sports, athletes and musicians represent. More than a drink, it's the way of life lived by athletes, sports, bands, believers and fans. See more about Monster Energy including all of its drinks at http://www.monsterenergy.com.