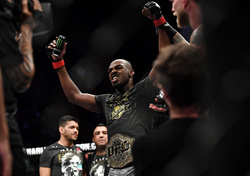 I'm so glad to be home. I love everything about this - Jon Jones.
INGLEWOOD, Calif. (PRWEB) December 31, 2018
Monster Energy's Jon "Bones" Jones reclaimed his 205-pound light heavyweight title on Saturday in a dominant and clinical, third-round TKO destruction of Alexander Gustafsson in the main event of UFC 232 at The Forum in Inglewood, California that aired on pay-per-view following prelims on FS1 and UFC Fight Pass.
Despite a 15-month suspension from the Octagon, Jones (23-1 MMA, 17-1 UFC) came back with a vengeance and didn't miss a beat out striking and out strategizing Gustafsson (18-5 MMC, 10-5 UFC) before forcing a ground and pound TKO at the 2:02 mark of the third round in a rematch of the fighters epic 2013 battle. Jones won the first fight more than five years ago in a highly competitive, but unanimous decision.
"Without God, I am absolutely nothing," said Jones. "All glory to God. With that being said, this is a great feeling."
After a tumultuous and stressful week that forced the UFC 232 event to move from Las Vegas to California because of an abnormal Jones drug test result, the 'King' of light heavyweight was elated to be back in the Octagon. Jones denied any wrongdoing, saying he was cleared by USADA.
"I'm so glad to be home," said Jones. "I love everything about this."
Jones came prepared and calculated making several key adjustments in the long-awaited rematch by punishing Gustafsson from a distance and staying out of the Swede's boxing range. Jones transitioned from the boxing of their first fight to his best kickboxing, slamming him with leg strikes to both body and legs. On the inside he skipped the dirty boxing and instead delivered lazer-sharp elbows in close with his vaunted precision and skill. Jones meticulously deconstructed Gustafsson by both outstriking and outwrestling the Swede in the first two rounds, before a swift and athletic takedown drove Gustafsson to the canvas where he suffered a ground-and-pound stoppage as Jones hammered strikes to the side of his head for a commanding third-round TKO victory.
Gustafsson said he suffered a painful groin injury early in the fight that threw him off, also stating that Jon knew exactly what to do to stop his movement and flow.
What's next for Jones? Although Jones called out current heavyweight champion, and former light heavyweight champion Daniel Cormier, a man he has defeated twice although his second win was overturned to a No Contest, following a positive drug test, Cormier may not want to cut weight to fight Jones again at light heavyweight. That said we could see Jones vs. Anthony Smith sometime in 2019.
Jon Jones is amongst Monster Energy's elite UFC team along with Conor "The Notorious" McGregor, Donald "Cowboy" Cerrone, Daniel Cormier, Dominick "Dominator" Cruz, Chris 'The All American' Weidman, Tyron "The Chosen One" Woodley, Max Holloway, Yair Rodriquez, Jessica-Rose Clark, Li Jingliang, Gökhan Saki, Rose Namajunas and new to the Monster Energy MMA team, Cris Cyborg.
For more on Jones and Monster Energy's MMA athletes visit http://www.monsterenergy.com. Follow Monster Energy on YouTube, Facebook, Instagram and Twitter.