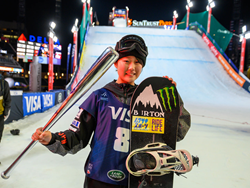 (PRWEB) December 23, 2019
Monster Energy congratulates two of its leading female Big Air snow sports athletes on strong podium finishes in Atlanta, Georgia, this weekend. Supported by Monster Energy as a Founding Premium Partner, the Visa Big Air competition showcased spectacular snowboard and freeski aerial tricks on a massive snow jump inside SunTrust Park stadium.
In front of a live crowd of over several thousand spectators and TV audiences across the globe, 15-year-old Japanese snowboard phenomenon Kokomo Murase took home second place in the competitive Women's Snowboard Big Air final on Friday.
In Saturday's Women's Ski Big Air final, 21-year-old Giulia Tanno from Lenzerheide, Switzerland, claimed a strong second place finish against the freeski world elite in the third official event of the 2019/20 Big Air World Cup season sanction by the International Ski Federation (FIS). This marks her fourth medal since her Ski Big Air silver medal at X Games Norway in August.
Made possible through a partnership between the Atlanta Braves Major League Baseball team and official governing body U.S. Ski & Snowboard, Visa Big Air transformed SunTrust Park stadium into a snow sports mecca. The center of the action was a 15-story jump structure comprised of around 30,000 pieces of steel and covered in 800 tons of artificial snow during the two-day event. Riders dropped in from the top of the scaffold structure to hit a snow jump, covering a distance of over 70 feet at speeds up to 40 miles per hour.
With the world's best aerial experts gunning for the top spots – including several Olympic medalists – here's how the action unfolded inside the home of the Atlanta Braves this weekend:
Women's Snowboard Big Air: Snowboard Phenom Kokomo Murase Claims Podium Spot
Despite her young age, Monster Energy's Kokomo Murase stepped into Visa Big Air Atlanta as a certified podium favorite. Facing a stacked field of riders, Murase qualified for the six-rider final alongside her teammate, 16-time X-Games medalist and two-time Olympic Gold medalist Jamie Anderson.
But during practice right before the final, Anderson suffered a heavy fall, injuring her head and shoulder. The 29-year-old snowboard icon from Lake Tahoe, California, had to pull out of the competition but soon let her 500,000 followers on Instagram know that she was going to be okay.
Facing heat from fellow Japanese big air athlete Reira Iwabuchi, Kokomo Murase attacked the snow jump at SunTrust Park stadium with a frontside double cork 900 Indy on her first attempt for 82.75 points.
She added to the score with a backside 720 mute over the gap for 76.75 points, bringing her total to 159.5 points for a strong second place behind Iwabuchi.
Kokomo Murase has counted among the upcoming riders to watch on the international snowboard big air circuit since her upset victory at X Games Norway 2018. Only 13 years old at the time, Murase clinched the win in a field of seasoned veterans, including freshly minted Olympic medalists, while at the same time making history as the first girl to land a 1260 double cork in a competition. Hailed as one of the new faces of snowboarding progression, she took silver in Women's Snowboard Big Air at X Games Norway 2019 in August.
Women's Ski Big Air: Monster Energy's Giulia Tanno Ends Season with Second-Place Finish
When the action moved into the Women's Ski Big Air final on Saturday, all eyes were on Monster Energy's Giulia Tanno. But it was an uphill battle for the 21-year-old slopestyle and Big Air specialist: Struggling with a cold all week, Tanno skipped most practices on previous days and limited her attempts to feeling out the jump with straight airs and switch 180s.
Adding to the challenge, heavy rain blanketed the stadium in Atlanta for most of Saturday's qualifiers, creating difficult riding conditions. Nevertheless, Tanno persevered and qualified into the final in first place. In a field of the top six qualifying riders, Tanno revisited her rivalry with fellow Swiss freestylist Mathilde Germaud as the two went head-to-head on best trick attempts.
In front of a high-energy crowd that braved the inclement weather at SunTrust Park, Tanno opened her final performance by sending a technical left double cork 1080 safety grab over the massive snow jump for 88.25 points. On her second attempt, she stoked the audience by stomping a switch left 1080 tail grab – hitting the jump riding backwards – for 87.5 points. With a total score of 175.75 points, Tanno finished in second place, five points behind Germaud in first.
On the strength of today's podium finish, Monster Energy's Tanno now commands first place in the FIS Big Air World Cup standings with 240 points, ahead of Switzerland's Mathilde Gremaud at 200 points and Norway's Johanne Killi in third at 195 points. The final 2019/20 FIS Freeski World Cup Big Air competition will take place in Destne, Czech Republic from February 28-29, 2020, and will crown the season's Big Air champions.
Her current first place on the Big Air leaderboards caps off a spectacular season for Tanno. She graduated from Sportmittelschule Engelberg college in June 2019 and has devoted all her energy to freeski training since. And it shows: Only one week ago, Tanno took a podium spot at the world's biggest aerial spectacle in winter sports, the 2019 Air + Style Beijing FIS Snowboard World Cup, where she finished second.
In early November, Tanno also took second place in the FIS Women's Big Air season opener at Modena Skipass in Italy. In August, the Swiss snowboarding prodigy claimed a well-earned silver medal in Ski Big Air at X Games Norway. She now owns three X Games medals (two silver, one bronze) and counts as a favorite at the upcoming 2020 X Games Aspen in Colorado.
Download photos for editorial use.
Big Air fans in the United States who missed the action in Atlanta this weekend can watch all podium runs on the official FIS Freeski YouTube channel and FIS Snowboarding YouTube channel.
Also look forward to catching the entire Monster Energy snow team at the world's biggest winter sports festival in only a few weeks from now: X Games Aspen will bring together elite athletes across ski, snowboard, snowmobile, and snow bike disciplines from January 23-26, 2020 at Buttermilk Mountain resort in Colorado.
Visit http://www.monsterenergy.com for more action as the 2020 snow sports season unfolds, including photos, videos, and contest results. Follow Monster Energy on Youtube, Facebook, Instagram, Twitter for exclusive behind-the-scenes coverage at upcoming events.
###
About Monster Energy
Based in Corona, California, Monster Energy is the leading marketer and distributor of energy drinks and alternative beverages. Refusing to acknowledge the traditional, Monster Energy supports the scene and sport. Whether motocross, off-road, NASCAR, MMA, BMX, surf, snowboard, ski, skateboard, or the rock and roll lifestyle, Monster Energy is a brand that believes in authenticity and the core of what its sports, athletes and musicians represent. More than a drink, it's the way of life lived by athletes, sports, bands, believers and fans. See more about Monster Energy including all of its drinks at http://www.monsterenergy.com.