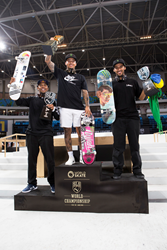 Winning today means everything to me. Not just because it's my first win since last year, but because this was the most insane contest ever. Thank you, Rio - Nyjah Huston
(PRWEB) January 14, 2019
The most epic contest in Street League Skateboarding history is in the books and Monster Energy's Nyjah Huston emerged as the new World Champion of street skateboarding. At the 2018 SLS World Championship presented by Monster Energy at Carioca Arena 1 in Rio de Janeiro, the 24-year old from Laguna Beach, California, claimed his fifth career SLS World Championship title with the highest final score in series history in front of a high-energy crowd.
Joining him on the podium, Huston's new Monster teammate Kelvin Hoefler from São Paulo, Brazil, took second place after a fierce head-to-head battle between the two in the final. As the latest addition to the Monster Energy skateboarding roster, the 24-year-old Brazilian tech skater concluded an impressive 2018 season in which he claimed podium finishes at every single SLS World Tour stop and the Pro Open in London.
This weekend's all-new SLS World Championship officially ended the 2018 Street League Skateboarding World Tour in a new, international format: Aside from the season's top-ranking SLS Pros, riders from across the globe – selected via international qualifier series – had a shot at becoming the official World Champion of Skateboarding in the Men's and Women's divisions.
Sanctioned by international governing body World Skate, the official world championships of street skateboarding included riders from Australia, Belgium, Brazil, Canada, China, France, Germany, Japan, Spain, the United States, the UK, and more.
Competition was intense in Rio on the California Skateparks-designed street course on Thursday. A field of 80 international competitors battled in the Men's Global Open to advance to the next round and skate next to previously seeded SLS pros. Saturday raised the stakes when the Semi Final saw 30 riders go blow-for-blow to secure one of only four(!) tickets to the Finals, where they would join the season's four top SLS Pros.
Although he came to Rio as the reigning 2017 SLS Super Crown World Champion, Huston had to earn his Final spot in the grueling Semi Final. A knee injury sustained in early 2018 had held him back from scoring World Tour qualifier points during the season. But known to thrive under pressure, Huston emerged in second place from the high-pressure Semi Final that eliminated several top contenders.
Having earned his Final spot with signature big tech moves like backside nosebluntslide the bench and switch frontside kickflip over the bump to barrier, Huston announced on Instagram: "Only 4 people made the cut to the finals tomorrow. So pumped to be a part of it and can't wait to send!"
And 'send it' is exactly what Huston did. The finals raised the bar as Hoefler took the lead by posting a Nine Club run including Half Cab bluntslide 270 out on the close-out rail, kickflip frontside bluntslide fakie on the rail and backside tailslide on the huge bump to centerpiece rail.
Huston responded by rifling off technical tricks for a 9.2-point Run score, including backside overcrook the bump-to-rail, 360 flip, bigspin flip and Half Cab flip over the bump, 180 overcrook the Euro gap ledge, frontside feeble the bump to flat bar, kickflip backside disaster the quarterpipe, and a gnarly backside 180 nosegrind the tall centerpiece bump to bar.
When the action moved into the Best Trick section, the level of difficulty exploded in what live commentators Paul Zitzer and Chris Cole declared "the most epic final in SLS history". Although riders like Brazil's Felipe Gustavo – who ended up taking 3rd place – posted an unprecedented amount of Nine Club scores, the finals came down to a head-to-head battle between Huston and Hoefler.
Huston built his lead with technical tricks on the tall centerpiece bump to bar, including Caballerial to backside lipslide (9.0 points), kickflip backside lipslide (9.0 points), and an ultra-tech kickflip backside tailslide (9.5 points) for a 37.00-point total score. But Hoefler did not miss a beat, either. Cheered on by a passionate hometown crowd, he fired back with kickflip backside lipslide on the tall centerpiece bar (9.0 point), bigspin frontside bluntslide to bigspin out (9.5 points) and took over the lead from Huston with a kickflip crooked on the tall centerpiece bar (9.5 points).
With his back against the wall, Huston pulled a trick he had not even attempted in practice to seal the deal: A 360 flip to frontside lipslide on the centerpiece bump to rail netted the highest score of the weekend at 9.6 points and a 37.6-points total score for the win. With an average of 9.4 points per trick, 37.6 points is the highest total at any SLS event in history and reflects the insane level in today's World Championship final.
"Winning today means everything to me. Not just because it's my first win since last year, but because this was the most insane contest ever. Thank you, Rio!" said Huston upon winning the SLS World Championship in Rio de Janeiro today.
Congratulations from everyone at Monster Energy on this achievement, especially since the 2018 Street League proved challenging for Huston. After sustaining a knee injury at Tampa Pro in March, the winningest skateboarder in SLS history was sidelined from the SLS Pro Open London – and the chance to score season ranking points – in May. Freshly returned from physical therapy in July, he had to settle for fourth place at the Los Angeles SLS Tour Stop. But only a few weeks later, Huston won X Games gold in Skateboard Street at X Games Minneapolis and is now back on top as the reigning SLS World Champion.
Download photos for editorial use.
In case you missed today's live Web Cast from the SLS World Championship in Rio de Janeiro, you can watch the Men's Final Replay on ESPN2 on February 3 at 6:00 p.m. PT, and the Women's Final Replay on ESPN2 on February 10 at 8:00 a.m. PT. Also make sure to catch the weekend's highlights on World of X on ABC on February 23 at 11:00 a.m. PT.
Visit http://www.monsterenergy.com and follow Monster Energy on Facebook, Instagram, Twitter for exclusive updates.
About Monster Energy
Based in Corona, California, Monster Energy is the leading marketer and distributor of energy drinks and alternative beverages. Refusing to acknowledge the traditional, Monster Energy supports the scene and sport. Whether motocross, off-road, NASCAR, MMA, BMX, surf, snowboard, ski, skateboard, or the rock and roll lifestyle, Monster Energy is a brand that believes in authenticity and the core of what its sports, athletes and musicians represent. More than a drink, it's the way of life lived by athletes, sports, bands, believers and fans. See more about Monster Energy including all of its drinks at http://www.monsterenergy.com.