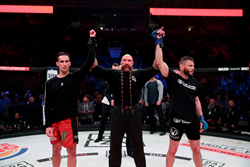 SAN JOSE, Calif. (PRWEB) April 30, 2019
Monster Energy congratulates its team of world-class MMA fighters on a triple victory at Bellator 220 in San Jose, California this Saturday night. In front of a high-energy crowd at SAP Center, key victories on the night's main card went to Phil Davis, Gaston "The Dreamkiller" Bolanos, and Rory MacDonald, the latter defending his Bellator Welterweight World Championship title in the main event against Jon Fitch.
Starting the main card with a bang, Bolanos came out swinging in his lightweight bout against Nathan Stolen that ended just before the bell in round one. In the fast-paced fight, the opening minutes saw both opponents exchange shots in what seemed like a balanced match-up – with Stolen attempting a surprise takedown – until Bolanos shattered the underdog's dreams with swift precision.
In the fight's pivotal scene, both opponents landed left hooks at the same time – but Bolanos packed more power in his mean left, planting Stolen straight on his back. Quick to pursue, Bolanos swept in to seal the deal with a few more strikes before referee Frank Trigg called TKO at 2:21 in round one. This latest victory brings Bolanos' Bellator record to 5-1. On the strength of four back-to-back victories, the 26-year-old with multiple Muay Thai titles to his name is emerging as an MMA threat.
When the action moved into the light heavyweight division, it was time for a rematch between Monster Energy's Davis and British grappling specialist Liam McGeary. The two had famously squared off at Bellator 163 on 4 November 2016, when Davis took McGeary's Bellator Light Heavyweight Championship title by unanimous decision. Preparing for Saturday's bout in San Diego, McGeary had allegedly focused on ramping up his wrestling skills, but Davis strategically shut him down.
Davis set up his win by chipping away at McGeary's stamina with kicks to the lead leg while countering attacks with left hooks and landing several knees to the body of his opponent. In the third and final round, Davis increased the pressure by scoring a takedown accompanied by heavy ground and pound, followed by a brutal front kick to the face. When the two collided in the final scene of the fight, Davis connected with a heavy left hand that sent his adversary to the canvas. Amidst Davis landing finishing punches McGeary tapped out – it later turned out he fractured his jaw – before the referee called the win via submission at 4:11 of round three. The victory puts Davis back on the win column with a 20-5 record after a loss to Vadim Nemkov.
For the night's main event, MacDonald aka "The Red King" defended his Bellator Welterweight World Championship title in the Octagon against challenger Fitch.
The official Welterweight Grand Prix event marked MacDonald's first defense of the Bellator welterweight title since capturing it from Douglas Lima in January 2018.
As it turned out, both opponents were in for a grueling fight all the way to the final bell. Coming in hot, former WSOF champion Fitch scored a takedown early in the first round, but MacDonald countered with a kimura to avoid getting pinned down. In the second round, MacDonald landed a heavy head kick and elbow to stun Fitch, who kept in close pursuit attempting to pin the 29-year-old Canadian to the mat. The closely contested bout moved all the way into the fifth round with both fighters looking to dominate – Fitch sticking to his wrestling game plan, MacDonald seeking openings to land heavy blows – and was ultimately called a majority draw (46-48, 47-47, 47-47).
As the reigning champion, MacDonald moves on to the next round of the Welterweight Grand Prix to face Neiman Gracie in the semifinal fight on June 14.
Download Photos for editorial use.
Rory MacDonald, Phil Davis and Gaston Bolanos are amongst Monster Energy's elite MMA athletes along with Jon Jones, Conor "The Notorious" McGregor, Daniel Cormier, Donald "Cowboy" Cerrone, Dominick "Dominator" Cruz, Chris 'The All American' Weidman, Tyron "The Chosen One" Woodley, Max Holloway, Yair Rodriquez, Jessica-Rose Clark, Li Jingliang, Gökhan Saki, Rose Namajunas, Cris Cyborg,T.J. Dillashaw, Michael Chandler, Quinton Rampage Jackson, Joe Schilling, and Juan "The Spaniard" Archuleta.
For more on Monster Energy's MMA team visit http://www.monsterenergy.com. Follow Monster Energy on YouTube, Facebook, Instagram and Twitter.
About Monster Energy
Based in Corona, California, Monster Energy is the leading marketer and distributor of energy drinks and alternative beverages. Refusing to acknowledge the traditional, Monster Energy supports the scene and sport. Whether motocross, off-road, NASCAR, MMA, BMX, surf, snowboard, ski, skateboard, or the rock and roll lifestyle, Monster Energy is a brand that believes in authenticity and the core of what its sports, athletes and musicians represent. More than a drink, it's the way of life lived by athletes, sports, bands, believers and fans. See more about Monster Energy including all of its drinks at http://www.monsterenergy.com.