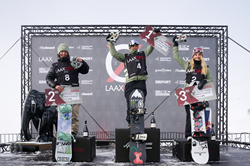 "I'm so stoked! To win the Laax Open is every snowboarder's dream. I'm really happy with the run I put down." - Zoi Sadowski-Synnott.
LAAX, Switzerland (PRWEB) January 23, 2023
One of the world's most iconic snow sports events is back! Monster Energy congratulates its team of snowboard athletes on a strong performance at the LAAX OPEN 2023 in Switzerland this weekend. In the iconic snow sports competition on Crap Sogn Gion Mountain, team rider Zoi Sadowski-Synnott from New Zealand claimed first place in the Women's Snowboard Slopestyle event.
Monster Energy riders also claimed four second-place finishes, including Mia Brookes(Women's Snowboard Slopestyle), Dusty Henricksen (Men's Snowboard Slopestyle), Sarah Hoefflin (Women's Freeski Slopestyle), and Alex Hall(Men's Freeski Slopestyle). Bringing the team's podium spots to eight total, Japanese team rider Yuto Totsuka took third place in Men's Snowboard Halfpipe, Birk Ruud finished third in Men's Freeski Slopestyle, and Sven Thorgren rose to third place in Men's Snowboard Slopestyle.
Since 2005, the annual Laax Open has been showcasing the world's best freestyle snowboarders in halfpipe and slopestyle competitions at the award-winning resort in the Swiss mountains. For this year's edition, the scope expanded with the addition of freeski slopestyle to the roster of events. As a result, Europe's premier action sports comp was bigger than ever: From January 18-22, almost 300 riders from across the globe competed in the official World Cup event sanctioned by the World Ski Federation (FIS).
Here's how the action unfolded for team Monster Energy at the Laax Open 2023:
Saturday's Women's Snowboard Slopestyle finals faced a difficult start amid inclement weather and had to be moved to Sunday morning. In the final showdown, the rider to beat was 21-year-old Zoi Sadowski-Synnott from Wanaka, New Zealand, who clinched gold in the discipline at X Games Aspen 2022.
As the session with seven finalists got underway, Sadowski-Synnott put down her highest-scoring run on the first attempt. Her rail game included back blunt 270 out on the first rail, front blunt 450 out of the second rail, and she hit the massive jumps with 900 switch stalefish, frontside 1080 melon, and backside 720 melon. She also attacked the butterbox final feature by posting a 50-50 frontside 180 up to Half Cab Indy to earn the highest score of the day at 81.30 points to take home first place.
"I'm so stoked! To win the Laax Open is every snowboarder's dream. I'm really happy with the run I put down. Mia is absolutely ripping, and I'm really excited to keep competing against her because she's pushing all of us to be our best," said Monster Energy's Sadowski-Synnot. Looking ahead, she said: "I've got X Games next week, which is super exciting. I'm hoping to put down some runs I haven't done before. It's where everywhere brings their best tricks ever and even learn tricks at the event, so who knows what's going to happen there!"
Also rising to the challenge, 16-year-old Mia Brookes from the United Kingdom claimed her first World Cup slopestyle podium finish with silver in what was also her first World Cup start. Last season, she was still too young to compete in FIS World Cup events and missed out on the 2022 Beijing Winter Olympics because of her age.
In Laax, Brookes earned her podium spot by ways of back 180 on Cab 360 out the first rail, Cab 180 on backside 360 out the second rail, then boosting into the jump section with frontside 720 melon, backside 900 Indy, Cab 1080 stalefish, and switch boardslide to forward and front 360 Indy out on the butterbox for 79.91 points.
"Super stoked! Really happy, can't believe it. I put down the run I wanted. If I had enough speed, I would have tried the 12. It was tight for speed, but I'm so happy with my run," said Brookes, adding: "Zoi is such a G and all the girls are so tight. It's super chill up there. I'm going to take my check and go buy a car!"
Initially set for Saturday, the Men's Snowboard Slopestyle final also needed to be postponed to Sunday, but the eleven riders made up for lost time by posting next-level tricks. When all was said and done, 19-year-old Dusty Henricksen from Mammoth Lakes, California, edged into second place with a display of style and creativity.
In his second run of the final, the Team USA rider landed gap to front lipslide pretzel 270 out, switch back boardslide to front flip mute, Cab 1260 nose grab, frontside 1440 Japan, backside triple cork 1440 mute, and ended his run by serving a back bluntslide 270 up to frontside rodeo 540 Indy off the butterbox for 82.45 points and his second career World Cup podium.
"Trippin bro! Super, super stoked that they decided to reward the grab holding on, you know… holding it until the end. Just stoked they chose execution over spins. It would have been dope to get on the top spot, but I love where the sport is going; there's so much going on," said Henricksen in Laax, adding: "Looking forward to X Games next week. It'll be a lot of Huck, Tuck, and Tweaking!"
Stepping on the podium in third place, 28-year-old Sven Thorgren from Sweden showed his versatility and trick selection in Laax. In his best run, the owner of seven X Games medals put down switch backside tailslide 270 out on the elbow rail, Half Cab on to nollie backside rodeo 540 out on the canon rail, Cab 1260 nosegrab, frontside 1440 tail grab, and backside 1620 melon, followed by a Cab 180 up to backside double rodeo 900 melon off the butterbox for 80.23 points.
Rounding out a series of snowboard podiums, the Men's Snowboard Halfpipe event marked the return to the Top 3 of 21-year-old team rider Yuto Totsuka from Yokohama, Japan. After dealing with injuries, the reigning halfpipe World Champion and winner of the 2021 Laax Open had not finished on a World Cup podium in over a year.
Looking to set the record straight, Totsuka barged into third place on the strength of a perfect run in the qualifiers featuring a massive frontside double cork 1440, switch frontside double cork 1260, switch backside double cork 1080, followed by a backside 1260 and frontside 1260 for 91.5 points.
Ultimately, scores from qualifiers would serve as final scores because Saturday night's Men's Snowboard Halfpipe final was cancelled due to poor visibility. Still giving the festival crowd an unforgettable show, Monster Energy's Kaishu Hirano commenced to send some of the highest aerials ever seen on a snowboard in the night session, undeterred by fog and relentless snowfall. Way to bring it!
Monster Energy riders also took top spots in the newly added freeski slopestyle events. In the highly contested Men's Freeski Slopestyle final on Sunday, 24-year-old freeski virtuoso Alex Hall from Park City rose all the way to second place.
In his best run, the Olympic slopestyle gold medalist and multiple X Games winner locked in 76.81 points for hitting the rails by way of transfer front swap pretzel 270 and switch right 270 on pretzel 450 out nosebutter. In the jumps, Hall pulled a left double cork 1260 mute, switch right double cork 1080 safety, and switch left double cork 1440 Japan, followed by a switch left 270 Tokyo drift to continuing 450 safety out the butterbox.
"It was definitely tough with the conditions and the snow but hyped to get it done. I was trying to do a Tokyo drift on the last feature. It's been so icey all week, but today we got it dialed. It was just a fun trick I wanted to try, and it worked out today!" said Hall upon taking second place at the 2023 Laax Open.
Hall was joined on the podium by Scandinavian young gun Birk Ruud. In his run, the 22-year-old Olympic gold medalist (Big Air) from Norway finessed a technical left nosebutter 620 on to 270 off the first rail, switch left 270 on to 620 off, followed by a right double cork 1440 safety, left double cork 1620 mute, switch left double cork 1620 safety, and slide frontside 270 off to nose butter 720 the butterbox for 75.63 points and third place.
On Sunday afternoon, the Women's Freeski Slopestyle finals ultimately had to be cancelled because of more incoming fog and snow on the mountain. With qualifier results deciding the podium, 32-year-old Swiss team rider Sarah Hoefflin finished strong in second place for her 14th World Cup podium.
In her highest-scoring run, the slopestyle gold medalist from the 2018 Winter Olympics in Pyeongchang once again proved her style and penchant for going big in front of the hometown crowd: A gap-out switch frontside lipslide on the top feature, front 450 off the canon, rightside 540 safety the first jump, followed by a switch left 720, and huge switch right double cork 1080, and Half Cab on to 540 off the butterbox earned Hoefflin 81.53 points.
"My highlight of the week was getting second place at Laax Open! I've been on the podium a few times, but this one is special! I even taught the girls how to spray their champagne which was super fun. X Games next and stoked to go out there and have fun!" said Monster Energy's Hoefflin in Laax.
On that note, Monster Energy riders are headed to Aspen, Colorado, for the world's biggest showcase in winter action sports: Make sure to catch the action at X Games Aspen 2023 from January 27-29 and follow Monster Energy for updates from Buttermilk Mountain.
For more on Zoi Sadowski-Synnott, Mia Brookes, Dusty Henricksen, Sarah Hoefflin, Alex Hall, Birk Ruud, Yuto Totsuka, Sven Thorgren, and the Monster Energy snow sports team, visit http://www.monsterenergy.com. Follow Monster Energy on YouTube, Facebook, Instagram, Twitter and TikTok for exclusive updates as the 2023 snow sports season continues.
###
About Monster Energy
Based in Corona, California, Monster Energy is the leading marketer of energy drinks and alternative beverages. Refusing to acknowledge the traditional, Monster Energy supports the scene and sport. Whether motocross, off-road, NASCAR, MMA, BMX, surf, snowboard, ski, skateboard, or the rock and roll lifestyle, Monster Energy is a brand that believes in authenticity and the core of what its sports, athletes, and musicians represent. More than a drink, it's the way of life lived by athletes, sports, bands, believers, and fans. See more about Monster Energy including all of its drinks at http://www.monsterenergy.com.