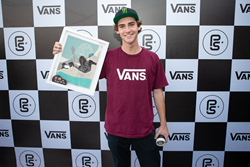 Suzhou, China (PRWEB) October 28, 2018
Monster Energy congratulates Tom Schaar for taking third place at the 2018 Vans Park Series (VPS) Men's Pro Tour Finals in Suzhou, China today. Freshly returned from injuries that had sidelined him for major parts of the 2018 season, the 19-year-old from Cardiff, California, claimed a podium spot in a heated final session against the world elite of park skateboarders, including riders from Australia, Brazil, France, Italy, Japan, South Africa, Sweden, and the United States.
Now in its third year, the Vans Park Series (VPS) is the official world championship format in park terrain skateboarding for men and women. From June to October 2018, the world's best pool skateboarders competed for Pro Tour points and prize money at competitions in Brazil (Sao Paulo), Canada (Vancouver), Sweden (Malmö), and the United States (Huntington Beach).
Today's event at the Suzhou Taihu International Conference Center about 60 miles Northwest of Shanghai marked the VPS Pro Tour's grand finale, with the season's top-ranking competitors battling for the men's and women's World Championship titles.
In front of a capacity stadium crowd and thousands of viewers watching the ETN online live stream, the men's semifinals saw a field of 25 qualified riders cut down to eight finalists in a fierce battle worthy of a world championship. With all riders on their A-game, several top contenders found themselves eliminated in the semis, including defending VPS World Champion Oskar Rozenberg Hallberg from Sweden.
The formula for posting high-scoring runs today consisted of attacking the large-sized obstacles on the California Skateparks-designed park course with speed and strategic lines, covering every wall without losing momentum. This turned out easier said than done, as a single imperfect landing could cost riders the speed necessary for navigating the tall banks and vertical corners connected by a challenging spine ramp middle section.
Schaar qualified into the finals in fifth place with a solid line including head-high backside 540s in the bowl's deep end and kickflip Indy air transfers into the tall bank. The finals kicked the competition into high gear, as Brazil's Pedro Barros cemented an early lead on the strength of high-flying aerials and burly transfers, closely followed by 2016 VPS World Champion Alex Sorgente.
Looking to improve on his semifinal scores, Schaar had to reach deep into his bag of tricks and increase the level of difficulty. On his third run out of four, he landed a perfect line stacked with tricks such as frontside blunt on the deck quarter pipe, kickflip varial Indy air transfer into the bank, tweaked stalefish air in the deep end, transfer to backside tailslide on the tall bank, ollie out to frontside Smith on the tombstone wallride, backside Smith grind the bowl section, backside 360 ollie over the centerpiece bump and a highly technical body varial backside 540 for 88.03 points and a strong third place finish.
Also skating strong today but missing the cut into the final eight, Schaar's Monster Energy teammate Trey Wood attacked the course in Suzhou at high speed, posting highlights such as transfer to frontside Smith grind the pool corner, backside boneless foot plant on the tombstone wallride and head-high backside 540 in the deep end. The 18-year-old who recently relocated from Arizona to Southern California earned his way into today's World Championship event as one of the top-five Pro Tour challengers. Coming in from a bronze medal finish in Big Air at X Games Sydney last week, Wood wrapped up his season in second place on the VPS Pro Tour Challenger Rankings at 21,600 points.
In the VPS Women's Pro Tour Final event, Monster Energy's Lizzie Armanto finished in tenth place with highlights including backside judo air, backside tailslide, and ollie blunt in the deep end, plus frontside airs over the channel. The 25-year-old from Santa Monica had a strong 2018 season, including a first-place finish in the Women's Skate Park Event at Nitro World Games 2018 in August. That same month, the global ambassador for women's skateboarding made history as the first female skateboarder to complete the legendary Loop obstacle in a challenge hosted by skate icon Tony Hawk.
Today's third place finish ends a difficult season for Schaar on a positive note. Before being sidelined by injuries, Tom kicked off his 2018 contest season with a first-place finish at the 13th annual Vans Pool Party contest in May, followed by a win at the VPS Pro Tour opener in Sao Paulo, Brazil. In July, he claimed bronze in Skateboard Park at X Games Minneapolis before undergoing treatment for his injuries. Previous career milestones include landing the world's first 1080 aerial on a skateboard at the age of 12 in 2012, and becoming the first X Games athlete to medal in both Big Air and Skate Park events at X Games Minneapolis in 2017.
If you missed today's live Web Cast from Suzhou, you can re-watch the action from the 2018 Vans Park Series World Championships on the Vans Park Series website at vansparkseries.com.
Download photos for editorial use.
Find more information on http://www.monsterenergy.com and follow Monster Energy on Facebook, Instagram, Twitter for exclusive updates.
About Monster Energy
Based in Corona, California, Monster Energy is the leading marketer and distributor of energy drinks and alternative beverages. Refusing to acknowledge the traditional, Monster Energy supports the scene and sport. Whether motocross, off-road, NASCAR, MMA, BMX, surf, snowboard, ski, skateboard, or the rock and roll lifestyle, Monster Energy is a brand that believes in authenticity and the core of what its sports, athletes and musicians represent. More than a drink, it's the way of life lived by athletes, sports, bands, believers and fans. See more about Monster Energy including all of its drinks at http://www.monsterenergy.com.