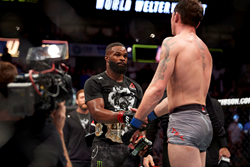 DALLAS (PRWEB) September 10, 2018
Monster Energy's Tyron "The Chosen One" Woodley defends his welterweight title against Darren Till in the main event with a brutal and decisive victory via second round submission at UFC 228 inside American Airlines Center in Dallas, Texas.
Despite the welterweight champion coming in as the betting underdog, Woodley found his former aggression and dominance much like his past destruction of Robbie Lawler with a sensational win over unbeaten Till, which finally earned the quiet welterweight king the respect he has long deserved.
Woodley proved he is the best welterweight in the division and arguably the greatest of all time with a dominating first round against a much bigger opponent nicknamed "The Guerilla", landing a solid right strike, multiple flurries and ground and pound. Till was out worked and out hustled throughout the round and literally offered no offense, while fans speculated it was a feeling out round, or the Englishman was simply finding his range for the next four to come.
But five rounds would not be as Woodley caught and dropped Till with his patented power right hand the first time Till came at Woodley with intent. Woodley established top control and showcased his wrestling pedigree, controlling the top position while raining down multiple damaging power-elbows upon the helpless Till. While a TKO seemed eminent, Woodley's veteran octagon experience was on display and he recognized the bloodied, but durable Till may not succumb and craftily slipped in a D'arce choke at 4:19 of the second round for a tap-out submission.
If silencing the haters who have discredited, if not disparaged Woodley for boring performances, or fighting to safely in the past was not satisfying enough, Woodley's coach Din Thomas entered the Octagon and presented Woodley with his Brazilian jiu-jitsu black belt after the unanticipated submission.
Next up for Woodley could be against Colby Covington based on their history, but at this stage Woodley commented, "I don't believe he deserves my platform right now." If the fight does happen will Woodley finally silence his non-stop chatter?
Tyron "The Chosen One" Woodley is amongst Monster Energy's elite UFC team along with Conor "The Notorious" McGregor, Donald "Cowboy" Cerrone, Dominick "Dominator" Cruz, Chris 'The All American' Weidman, Daniel Cormier , Paige VanZant, Max Holloway, Yair Rodriquez, Jessica Rose, Li Jinliang, Gökhan Saki and Rose Namajunes.
For more on Woodley and Monster Energy's MMA athletes visit http://www.monsterenergy.com. Follow Monster Energy on YouTube, Facebook, Instagram and Twitter.
For interview or photo requests contact Kim Dresser.
About Monster Energy
Based in Corona, California, Monster Energy is the leading marketer and distributor of energy drinks and alternative beverages. Refusing to acknowledge the traditional, Monster Energy supports the scene and sport. Whether motocross, off-road, NASCAR, MMA, BMX, surf, snowboard, ski, skateboard, or the rock and roll lifestyle, Monster Energy is a brand that believes in authenticity and the core of what its sports, athletes and musicians represent. More than a drink, it's the way of life lived by athletes, sports, bands, believers and fans. See more about Monster Energy including all of its drinks at http://www.monsterenergy.com.