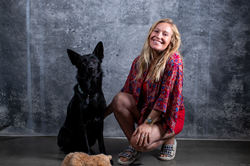 "I grew up in a down-to-earth and spiritual family. Not anything religious. And had a bad accident when I was young that really pushed me into yoga and being grateful for my health and all of that." - Jamie Anderson
CORONA, Calif. (PRWEB) November 14, 2022
Roll out the red carpet for the most decorated woman in snowboarding! Monster Energy is proud to welcome snowboard trailblazer Jamie Anderson from South Lake Tahoe, California on Episode 44 of the sports and pop culture podcast UNLEASHED with The Dingo and Danny.
Recorded at Studio M inside Monster Energy headquarters in Corona, California, this 56-minute episode tells the incredible story of the 32-year-old snowboard phenom who won her first X Games medal at age 15 and has dominated the sport like no other woman ever since.
Speaking on winning her first Olympic gold medal, Anderson said on UNLEASHED: "I dropped to my knees in gratitude. I was tripping! I didn't really care at that point… I was just so happy I landed the run that I wanted to do and then ended up getting gold."
For the full story of how Jamie Anderson's technical and graceful riding style inspired an entire generation of female snowboarders, fans can now tune in to Episode 44 of UNLEASHED. Released today, the new podcast is streaming on all major platforms, including Spotify, iTunes, and YouTube.
Jamie Anderson has pushed women's snowboarding where no athlete has taken it before. At age 32, she looks upon a unique career as an innovator and trailblazer: With 21 X Games medals (including 8 gold), Anderson holds the record as the most-medaled female competitor in the history of X Games. She took home gold in the Olympic debut of women's snowboard slopestyle at the 2014 Sochi Winter Olympic Games, then won her second Olympic gold medal at the 2018 Olympic games in Pyeongchang, South Korea. But it wasn't a walk in the park, as Anderson shares her honest experience about the pressures of competing at the highest level on UNLEASHED.
Hear the inside story from Anderson in conversation with the two podcast hosts, Australian action sports personality Luke "The Dingo" Trembath, and professional snowboarder Danny Kass on Episode 44 of UNLEASHED. Also joining the interview, acclaimed painter, model, and UFC ambassador Brittney Palmer contributes questions and background information to the episode. Tune in right here.
Anderson grew up in scenic South Lake Tahoe in a family of eight children, homeschooled by parents who encouraged exploring the outdoors. That's how she decided to start snowboarding at the mere age of nine. Coming into her own as a teenager, Anderson cultivated a style inspired by skateboarding – marked by huge gaps and rail tricks – that used to be the sole domain of men in the sport.
Underneath her fearless approach to riding lies a Zen-like positivity and regular practice of yoga and meditation. "I grew up in a down-to-earth and spiritual family. Not anything religious. And had a bad accident when I was young that really pushed me into yoga and being grateful for my health and all of that."
Anderson won her first X Games medal at age 15 and proceeded to dominate. Looking back at how much the sport and level of riding progressed since Anderson said: "I think I earned my first medal in 2006 with a frontside 180. And to flashback to that and see what the girls are doing now, it's just mind-blowing! I sometimes just have to slow down and reflect and think, how dope the women are!"
Fast-forward to 2022 and Anderson is looking at a milestone-heavy career: With 21 X Games medals under her belt (8 gold, 9 silver, and 4 bronze), Anderson is now tied for most Winter X Games medals in history – out of male and female riders – with Canadian snowboarder Mark McMorris. How did that milestone feel? "That's a lot of work. A lot of events, over 16 years," said Anderson.
Anderson also made history by winning the first gold medal in women's slopestyle at the Olympics in 2014. "That was probably one of the highlights of my career because there's always a lot of pressure. But the Olympics are just a different ballpark," said Anderson, who clinched the win in Sochi on her last run of the final.
She doubled down on her Olympic track record in South Korea by again getting gold in 2018, plus silver in Big Air, but this time the pressure and on-site conditions were almost unbearable. "I remember leaving that contest in tears. I had this gold medal, but it felt like it had no depth."
Asked about the future of snowboarding, Anderson shares her ideas for progressive course designs and specifically points out her Monster Energy teammate and next-gen rider Zoi Sadowski-Synnott for carrying the torch. "I feel like the next generation is in good hands… Because she's a real snowboarder!"
Want to hear the whole uncut truth from Monster Energy's Anderson and find out what's really bumping on her headphones at X Games? Visit the landing page to access Episode 44 of the UNLEASHED with The Dingo and Danny Podcast featuring snowboard trailblazer Jamie Anderson.
Episodes of UNLEASHED are filmed on a special set inside Studio M at Monster Energy headquarters in Corona, California. The podcast is hosted by the dynamic duo of Australian action sports personality Luke "The Dingo" Trembath and professional snowboarder Danny Kass. Known for their deep roots in action sports culture, the two starred in the beloved cult TV show 'The Adventures of Danny and The Dingo' on Fuel TV for five action-packed seasons in the early 2010s. Both hosts have walked the walk as pro snowboarders and possess the interview skills to find common ground with guests from any type of background – sports and pop culture. Always look out for new episodes dropping bi-weekly on Mondays.
Download photos for editorial use.
The UNLEASHED with The Dingo and Danny Podcast is here to celebrate the personalities behind the Monster Energy lifestyle. With each episode dedicated to a unique guest or topic, listeners learn about living on the edge and advancing the state of the art in the world of high-energy sports as well as music, games, and pop culture from individuals at the top of their game. More than a drink, Monster Energy is a way of life lived by athletes, sports, bands, believers, and fans – and the podcast is an extension of this unique DNA.
For more on Monster Energy and the UNLEASHED Podcast, visit http://www.monsterenergy.com. Also follow Monster Energy on YouTube, Facebook, Instagram, Twitter and TikTok for exclusive content and athlete features.
###
About Monster Energy
Based in Corona, California, Monster Energy is the leading marketer of energy drinks and alternative beverages. Refusing to acknowledge the traditional, Monster Energy supports the scene and sport. Whether motocross, off-road, NASCAR, MMA, BMX, surf, snowboard, ski, skateboard, or the rock and roll lifestyle, Monster Energy is a brand that believes in authenticity and the core of what its sports, athletes, and musicians represent. More than a drink, it's the way of life lived by athletes, sports, bands, believers, and fans. See more about Monster Energy including all of its drinks at http://www.monsterenergy.com.