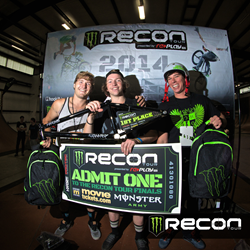 Solana Beach, Calif (PRWEB) July 24, 2014
Trent Newkirk wins the open division at the Monster Army Recon Tour Round 3 in Butler, Ohio at the Ohio Dreams facility presented by Replay XD. As a contender in the Recon Tour finals last year, Newkirk is no stranger to the Recon Tour series and with this win will be invited back to the finals where he is definitely regarded as a solid threat to the competition.
Ohio Dreams is not the everyday skatepark most athletes are used to, but is a private world-class training facility that serves dedicated athletes to improve and progress their skills in multiple sports. The camp featured everything from a massive indoor park, outdoor parks, multiple BMX race tracks, water ramps, trampolines, etc., and proved to be an innovative action sports facility that is situated in the middle of the Mohican forest.
The 13-15 division launched the competition with the youngest athletes throwing huge tricks that included back flips, tailwhips, 540's, and much more. First place went to Eddie Rovi of New Jersey, who turned 13 just days before the event and impressed with huge tricks like double tail whips, superman seat grabs, and barspins using the entire course. Second place went to Trevyn Gibbs of Tucson, AZ with his consistent riding and smooth style, and local Giovanni Mavar took third place with his impressive use of the course and fakie skills.
Next up was the 16 + division, which had competitors from Virginia, Illinois, Alabama, etc. This division turned up the heat with big tricks and transfers featuring wallrides, backflip transfers, 360 bar spins, caveman drops and more. Isaiah Potter took home first with his effortless style, unique use of course and big tricks. Chase Stewart took home the second spot by with his big flairs, 360 bar to flat and big dip three's over the spine. Richie White's double whips and style secured third place.
Finally, the open division was set to drop in with the biggest open class and the most talented group of riders we have seen yet this year on the tour. Brett Banasiewicz was on hand and rode in his second Recon Tour of the year. He always inspires all the athletes with his positive attitude and his courageous battle of recovery. All of the athletes were laying it on the line and a few did get broken off. This division was as intense as it gets with athletes throwing tricks like frontflips, 360 double whips, 720's, cash rolls and much more.
Alexander Lansaw attempted the biggest transfer of the day and ended up landing flat smashing his heel. Matty Cranmer went into the finals with the highest scoring run of the day and looked like he would top the podium. In his first run he was boosting massive transfer lines, and pulling ahead of the field until he came up short on a seven ending his run very abruptly. He was unable to take his second run which opened the door for athletes like Trevor Fitz, Brandon Smeltzer and Nickolas Garee. Fitz just missed the podium, but did the biggest successful gap of the event gaining him much respect. Local shredder Garee took home the second podium position by throwing double 360 whips, 720's, and 360 bar to turndown, and Smeltzer finished third by throwing big frontflips, 360 whip to bar, and much more.
It all came down to Newkirk who ultimately won despite the fact that he fell in the finals on his first run trying a 720 bar, which put all the pressure on him for a clean second run. It was nail biting watching his second run as he threw down huge tricks like 360 backflips, backflip barspins, superman transfers and his last trick which was a decade to 360 that he nailed earning him first place and the movie ticket award sending him to the Recon Tour Finals at Mike Spinner's backyard where he will compete once again to become the Recon Tour Champion.
Thanks to the Hookit brand partners: Monster Army, Replay XD, Hyper Bike co., Movietickets.com, Pro-Tec, Sunringle, Deft Family, ODI, Snafu, Fugoo, Vans, and Vital BMX. Also, thanks to the Ashcraft family and the entire Ohio Dreams staff, as well as Ryan Guettler, Kris Fox, Tommy Pelltet, Joe Taberno, and Dylan Pfohl.
Final Results
Open Final Results:
1st- Trent Newkirk
2nd- Nickolas Garee
3rd- Brandon Smeltzer
16 + Final Results:
1st- Isaiah Potter
2nd- Chase Stewart
3rd- Richie White
13 - 15 Final Results:
1st- Eddie Rovi
2nd- Trevyn Gibbs
3rd- Giovanni Mavar
Up Next: Round 4 on August 9 at The Kitchen Skatepark in Southbend, IN. Register now at http://www.theReconTour.com.
###
About the Recon Tour
The Recon Tour, created by Hookit and Monster Energy, is an intelligence-gathering mission to find the best up-and-coming athletes in the nation through contests for BMX, Snowboard and Ski. We work closely with key partners to support the future of action sports and provide a better platform for the athletes to advance in their sports. For more information on the Recon Tour, visit http://www.theReconTour.com. Follow on Facebook at http://www.facebook.com/recontour, on Twitter @recontour, and on instagram @recontour. To get involved as a sponsor or partner, please contact Robby Burleson at 888-874-3374 ext. 103 or recontour(at)hookit(dot)com.
About Hookit
Hookit is a digitally connected platform of tools and services created to support and connect athletes, brands and sports. Nearly 1M athlete's worldwide use Hookit to track their progression, promote themselves, build their personal brand, and earn deals from their favorite brands. The newly launched Hookit Score essentially measures the value of any athlete at any level. Updated daily scores range from 1-10,000, and are based on athletes' commitment, performance and reach in their sport. Brand partners are provided with powerful tools to discover, manage and reward amateur and professional athletes who actively support their brand. For more information, visit http://www.hookit.com.
About Monster Army
Monster Army is a legion of athletes and fans that represent the Monster Energy brand all over the world. Join pros like Scotty Cranmer, Jamie Bestwick, Ryan Villopoto, Danny Kass and Rob Dyrdek, and get insider access to the Monster Energy lifestyle - Athletes, Support, News, Music, Contests and Events. For more info, visit http://www.monsterarmy.com.