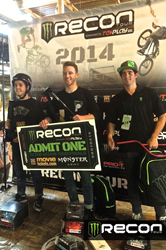 The Recon Tour helps evolve the future of action sports by supporting the next generation of athletes to help them advance to the professional level.
Solana Beach, Calif (PRWEB) May 02, 2014
Jimmy Smith takes the first open division win at the Monster Army Recon Tour presented by Replay XD. The event was held at the iconic Ramp Riders Park in St. Louis, MO where BMX roots date back to the early 2000's.
The Recon Tour's mission is to support amateur athletes by hosting events that will give the competitors a chance to win an entry into pro events. These contests are crucial to amateur athletes and the BMX community because they allow them the opportunity to progress in their sports. The Recon Tour helps evolve the future of action sports by supporting the next generation of athletes to help them advance to the professional level.
The Ramp Rider's Park was the perfect spot to host the first stop of the Recon Tour featuring a massive park with concrete floors and ramps from wall to wall ranging from vert, wallrides, rhythm sections, street sections and everything in-between.
The contest started with the 13-15 age group where Brendon Colvin and Jake Whitney were throwing really good lines backed up with technical tricks, but Michael Hicks proved what he was made of, by using technical transfer lines, owning the entire course and getting inverted, which earned him the top spot and lots of prizes.
Next up was the 16 + division and the competition was fierce. The competitors were ripping through the course using all the different lines and making it look easy. In the end it was Chase Pauza, Keelyn Jones and Chase Coffman who took first, second and third. Pauza was one of the few to hit the banked wall ride during his run giving him the lead position.
The last group to ride, and most competitive was the Open division. Where Trevor Fitz and Jimmy Smith went head-to-head in this close competition with Smith edging out Fitz in the end and taking first place. During the finals Matty Cranmner threw huge tricks like a double truck over the box, 540 on the vert wall and massive transfers. Then Fitz stepped up going massive on every feature he hit and ended his run with a cannon ball to barspin, which has rarely been done in contests. Smith won by showing a lot of variation in the lines he chose to ride, and linking them together with really big tricks. He ended his run with a tuck bar to bar, which ultimately gave him the extra points to take the lead.
Special thanks to the Hookit brand partners: Monster Army, Replay XD, Hyper Bike co., Movietickets.com, Pro-Tec, Sunringle, Deft Family, ODI, Snafu, Fugoo, Vans, Vital BMX. Also thanks to Ryan Guettler, Kris Fox, Dylan Pfohl, Chad Hehner from Ramp Riders, John Haase, and everyone who made this event possible.
Final Results
Open Final Results:
1st- Jimmy Smith
2nd- Trevor Fitz
3rd-Matty Cranmer
16 + Final Results:
1st- Chase Pauza
2nd- Keelyn Jones
3rd- Chase Coffman
13 -15 Final Results:
1st- Michael Hicks
2nd- Jake Whitney
3rd- Brenden Colvin
Up Next: Round 2 on May 24 at Premises Park in Tucson, AZ. Register now at http://www.theReconTour.com.
###
About the Recon Tour
The Recon Tour, created by Hookit and Monster Energy, is an intelligence-gathering mission to find the best up-and-coming athletes in the nation through contests for BMX, Snowboard and Ski. We work closely with key partners to support the future of action sports and provide a better platform for the athletes to advance in their sports. For more information on the Recon Tour, visit http://www.theReconTour.com. Follow on Facebook at http://www.facebook.com/recontour, on Twitter @recontour, and on instagram @recontour. To get involved as a sponsor or partner, please contact Jody at 888-874-3374 ext. 133 or recontour(at)hookit(dot)com.
About Hookit
Hookit is a digitally connected platform of tools and services created to support and connect athletes, brands and sports. Nearly 1M athlete's worldwide use Hookit to track their progression, promote themselves, build their personal brand, and earn deals from their favorite brands. The newly launched Hookit Score essentially measures the value of any athlete at any level. Updated daily scores range from 1-10,000, and are based on athletes' commitment, performance and reach in their sport. Brand partners are provided with powerful tools to discover, manage and reward amateur and professional athletes who actively support their brand. For more information visit http://www.hookit.com.
About Monster Army
Monster Army is a legion of athletes and fans that represent the Monster Energy brand all over the world. Join pros like Scotty Cranmer, Jamie Bestwick, Ryan Villopoto, Danny Kass and Rob Dyrdek and get insider access to the Monster Energy lifestyle - Athletes, Support, News, Music, Contests and Events. For more info, visit http://www.monsterarmy.com.