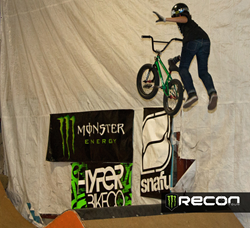 Solana Beach, CA (PRWEB) May 30, 2014
Victor Peraza takes the win in the open division at the Monster Army Recon Tour Round 2 presented by Replay XD. This makes him the youngest athlete to win the Recon Tour open division since the Recon Tour began two years ago. The event took place at Premises Park in Tucson, AZ where riders traveled across the US and even Japan to attend.
Premises Park is always one of the most exciting venues of the tour. The setup allows the spectators to be above the contest area, which provides an arena type atmosphere for the athletes. The athletes get tons of encouragement from the 300 plus fans that were in attendance cheering and screaming for their favorite riders. With the DJ spinning and the live broadcast displayed on a massive projector screen hanging in the building, the event was the place to be. There was even a halftime show with rap performers and break-dancers before the finals took place. Ian Abbot, the owner of Premises Park, always hosts an incredible event.
We kicked things off Saturday afternoon with the 13-15 age division. Notable athletes included Tucker Smith blasting his long blond locks out of the full-face helmet and throwing huge 540s in the bowl. Local rider Trevyn Gibbs impressed everyone with his riding and strength by ending up in 4th place after he had just gotten his cast taken off his wrist a few days before. The top three came down to Brian Vazquez in 3rd, Zhean Lafitte in 2nd and Andrew Casarez finishing 1st. Casarez did amazing bar spin combos and tricked all of the features, which helped the judges make their decision.
The next division that took place was the 16 + group. This featured some of the most technical riding of the day. It was a battle down to the wire, but only three can make the podium. It rounded out with Ethan Bray in 3rd doing huge flairs and 360 transfers. Steven Hammond took second place showcasing his unbelievable wizardry of tricks and balance on the street section of the course, and Antonio Chavez took home the top podium finish in 1st. Chavez showcased multiple combo tricks over the box jumps, 360 variations and used the entire course to secure his top finish.
The Open division was finally underway where the energy was at an all time high. Ryan Guettler on the MIC made sure that everyone was on their feet and cheering as loud as they could for all the athletes in the finals. It came down to excellent riding and very close scores that created a nail-biting finish. Brad Thomas, who showcased a wide variety of tricks and use of the course, just missed the podium, finishing in 4th place. Ruben Torres showed that he deserved to be on the podium finishing in 3rd with his perfect bar spin and tailwhip combos. It was no surprise that the top two scores going into finals were the Peraza brothers. Their brother Kevin Peraza is a world-class Monster Energy BMX athlete and it appears as if Victor and David are following in his footsteps. David showed his power by hitting huge transfers and blasting massive double whips all over the place. Victor, who was the youngest competitor in the finals at age 13, knew he had to pull off something amazing to overtake his brother. He did just that by tricking everything in the park and having amazing style and fluid lines throughout his entire run. Victor will now go on to compete in the Finals at Mike Spinner's backyard in hopes of becoming the overall Recon Tour Champion.
Special thanks to the Hookit brand partners: Monster Army, Replay XD, Hyper Bike co., Movietickets.com, Pro-Tec, Sunringle, Deft Family, ODI, Snafu, Fugoo, Vans, and Vital BMX. Huge thanks to Ian Abbott for everything he does for the sport of BMX. Also thanks to Ryan Guettler, Kevin Peraza, Danny Josa, Joe Taberno, Dylan Pfohl, Sean Zaidi, Johnathan Burgoyne, the live broadcast crew, and all the staff that made this event possible at Premises Park.
Final Results
Open Final Results:
1st- Victor Peraza
2nd- David Peraza
3rd- Ruben Torres
16 + Final Results:
1st- Antonio Chavez
2nd- Steven Hammond
3rd- Ethan Bray
13 - 15 Final Results:
1st- Andrew Casarez
2nd- Zhean Lafitte
3rd- Brian Vazquez
Up Next: Round 3 on July 19 at Ohio Dreams in Butler, OH. Register now at http://www.theReconTour.com.
###
About the Recon Tour
The Recon Tour, created by Hookit and Monster Energy, is an intelligence-gathering mission to find the best up-and-coming athletes in the nation through contests for BMX, Snowboard and Ski. We work closely with key partners to support the future of action sports and provide a better platform for the athletes to advance in their sports. For more information on the Recon Tour, visit http://www.theReconTour.com. Follow on Facebook at http://www.facebook.com/recontour, on Twitter @recontour, and on instagram @recontour.
About Hookit
Hookit is a digitally connected platform of tools and services created to support and connect athletes, brands and sports. Nearly 1M athlete's worldwide use Hookit to track their progression, promote themselves, build their personal brand, and earn deals from their favorite brands. The newly launched Hookit Score essentially measures the value of any athlete at any level. Updated daily scores range from 1-10,000, and are based on athletes' commitment, performance and reach in their sport. Brand partners are provided with powerful tools to discover, manage and reward amateur and professional athletes who actively support their brand. For more information visit http://www.hookit.com.
About Monster Army
Monster Army is a legion of athletes and fans that represent the Monster Energy brand all over the world. Join pros like Scotty Cranmer, Jamie Bestwick, Ryan Villopoto, Danny Kass and Rob Dyrdek and get insider access to the Monster Energy lifestyle - Athletes, Support, News, Music, Contests and Events. For more info, visit http://www.monsterarmy.com.