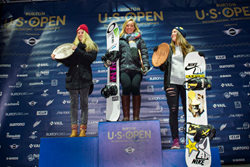 This winter was so much fun! No Olympic chaos, just cruising and learning and having fun. And the Open is one of the biggest events of the year … it's great to win here with all of its history. Jamie Anderson
Vail, Colorado (PRWEB) March 10, 2015
Monster Energy team mixes it up with a first, second and third at the Burton US Open Snowboarding Championships, which is snowboarding's eldest contest with this year marking an amazing 33rd year in the books. With her usual authority Jamie Anderson took first place in women's slopestyle, Chloe Kim backed her up in Women's Superpipe with a solid second place, and Ayumu Hirano took a respectable third in men's SuperPipe.
With an extra-long SuperPipe and a unique Slopestyle course with hybrid side-hit transitions on jump number one, the last major competition of the season got cranking with 200 competitors. Vail's recent snowfall ended, the winds died down, and the clouds parted just in time for the finals.
Dew Tour dominance, then surprising second place finishes at both X Games Aspen and the Burton European Open – Anderson was determined to bookend the year on top and claim her fourth US Open title, which solidified her WST win. True to form, her first run came in at an amazing 90.95 largely because she was the only woman to take on the challenge of hitting the unique quarterpipe transition takeoff on the side of the first jump feature. Coupled with some stylish board work on the top rail section to include Cab 270 to tailside, switch board, and boardslide to 270 out, the rest of the jump section was classic Anderson power moves – a lofty nosegrab Cab 720 to enormous switch backside 540!
"This winter was so much fun!" said Anderson. "No Olympic chaos, just cruising and learning and having fun. And the Open is one of the biggest events of the year … it's great to win here with all of its history."
After coming off an incredible year with her recent gold medal win at X Games Aspen 2015 where she made history by becoming the youngest women's SuperPipe gold medalist of all time, and the youngest ever to win in X Games winter-event history, Kim's score of 88.74 was good enough to earn her second place amongst a field of veteran riders.
"It was one of the most technical runs of my life and I'm really excited!" gushed young 'Pipe phenom Kim after she became the next girl to land a 1080 in Women's SuperPipe competition since Kelly Clark first stomped one out at the 2011 X Games.
While the historic move didn't net her first place, she surely moved women's pipe competition forward with an astoundingly technical run: A backside air, to frontside 1080 tailgrab, to Cab 900, to switch backside 720, a McTwist, to a huge frontside 540. While the battle for 'Pipe supremacy rages on between Chloe and Kelly, the progression of women's snowboarding has risen in their wake.
Young Japanese Pipe destroyer Hirano dropped into the SuperPipe with his usual amplitude and easily blasted into first position with a score of 84.75. His victory seemed a lock as the world's best riders struggled to put down a clean run in the softening pipe. Then fellow Japanese shredder Taku Hiraoka went richter and bumped him into second – followed by Swiss charger Arthur Longo putting down the run of his life. Hirano found himself in third on the podium bubble. Frustrated with the soft left wall of the Pipe, the young samurai could no longer put down his uber run from practice, but came out swinging on his third go, with a massive Indy air to mental frontside double cork 1080 truck driver. Upon landing he hooked his edge in the transition and went down violently, cracking his helmet as it flew off and slid down the 'Pipe. After a tense and quiet moment, Hirano got up and walked away okay if a bit rattled, thankful for a third place finish at snowboarding's most storied and historic event.
"The right wall was a little softer then the left wall and that was a little scary. I could not do the run I landed in practice, but I'm happy to get third place," said Hirano.
For more on Anderson, Kim and Hirano, check out monsterenergy.com.
The site is dialed with exclusive photos, videos, and behind-the-scenes updates featuring Monster Energy athletes.
###
About Monster Energy:
Based in Corona, California, Monster Energy is the leading marketer and distributor of energy drinks and alternative beverages. Refusing to acknowledge the traditional, Monster Energy supports the scene and sport. Whether motocross, off-road, NASCAR, MMA, BMX, surf, snowboard, ski, skateboard, or the rock and roll lifestyle, Monster Energy is a brand that believes in authenticity and the core of what its sports, athletes and musicians represent. More than a drink, it's the way of life lived by athletes, sports, bands, believers and fans. See more about Monster Energy including all of its drinks at monsterenergy.com.