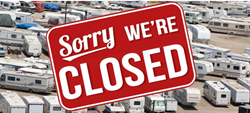 With the cost of land in most Southern California markets, building additional RV parking spaces just isn't feasible
ORANGE COUNTY, Calif. (PRWEB) November 06, 2019
Just when you thought it was safe to store your RV in Orange County, Amazon.com moves in and buys out a large RV storage facility operated in Mission Viejo, California, displacing hundreds of stored RV's. These dislodged RV owners are turning towards Monstore Garages for the stability that owned Garage Condominiums offer.
This is the second time this type of bombshell has hit RV owners in Orange County. The first being the eviction of over 2,200 RV's resulting from the closure of the EL Toro Marine Base in Orange County in October 2015. This latest closure brings the total RV storage space loss to over 2700 spaces, with zero replacement spaces being developed due to the extremely high cost of land in Orange County.
Monstore Garages, a Garage Condominium development in Palm Springs, California (which sells enclosed RV and car storage spaces to RV and car collectors), is one of the benefactors of the recent demise of rental RV storage.
Dave Gandolfo, its developer said, "While the closures are unfortunate, those who have purchased their own storage are in a good position to not only control their costs, but to actually benefit from the recent closures." He continued, "Owners are realizing increased values of their garage condominiums resulting from the extraordinary demand from the recent closures and high storage costs."
Ted Deits, the Developer of Eucalyptus at Beaumont, another Garage Condominium facility in Beaumont California, said, "Our facility has seen double digit appreciation over the last 5 years, due in part to the closure of many rental RV storage facilities, most notable being the El Toro Marine Base RV Storage closure, removing over 2,200 RV storage spaces in 2015. Garages that come up for resale often sell within hours due to the high demand and rarity of this concept."
While owning your own garage condominium is one solution, there is an inherit problem. Ted Deits said, "Building a garage condominium project in California takes three years from the day you purchase the land to completion." Ted continued, "While we are working on additional locations, there is no immediate solution for RV storage in the works for the next few years."
Dave Gandolfo of Monstore Garages, Palm Springs said, "We do have a few garage condominiums left in our phase one project currently under construction, but we have also expanded to another 35,000 square feet in our phase two to begin construction in early 2020." Dave continued, "Phase two will take about 10-12 months to complete, so there is some potential relief in sight, although the demand is quite high and these garages will sell fast."
We reached out to Greg Houge, President of Storage Etc, with 3,000,000 square feet of self storage under his belt, asking about the viability of building additional RV storage properties in Orange County. Greg said, "With the cost of land in most Southern California markets, building additional RV parking spaces just isn't feasible, and if it is, it certainly does not happen quickly. Storage Etc. has over 1,000 legacy RV/Boat parking spaces in Southern California that would not be feasible to build today."
We also contacted Caesar Wright, President of Mako Steel, a dominate supplier of self storage buildings, asking if he knew of any possible RV storage solutions in Orange County. Caesar said, "I not a feasibility expert, but the demand in Southern California for boat / rv storage is extremely high." Caesar continued, "The biggest challenge for the developer is land cost and the amount of land needed to develop the facility…..It's just not feasible."
As far as we can tell, there are few options left for RV storage in expensive areas such as Orange County. It is very likely that RV owners are going to have to get accustomed to traveling an hour or so to outlying areas to find affordable storage. Those who do own their own RV storage (condos) are about the only ones insulated from future evictions and price hikes.