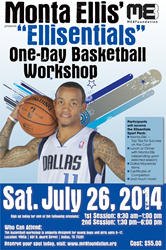 Dallas, TX (PRWEB) July 09, 2014
Founded by Monta Ellis, the ME8Foundation will host its first basketball workshop in the Dallas area on Saturday, July 26. The shooting guard for the Dallas Mavericks will be in attendance at both sessions (first session: 8:30 a.m. - 1:00 p.m., second session: 1:30 p.m. - 6:00 p.m.) at the YMCA located on 601 N. Akard Street.
The basketball workshop is uniquely designed for young boys and girls ages 9 –17. Depending upon the session selected, participants will join Monta Ellis for a Lunch and Learn Discussion or a Motivational Dinner and Discussion. The cost for the camp is $55.
"I'm excited to host the workshop in the Dallas area and help children with the necessary skills to succeed on and off the court," says Monta Ellis.
Proceeds from the workshop will benefit the continual outreach of the Foundation in the areas of public service, education, preventive health and community development.
For more information and to register for the workshop, visit: http://www.ME8Foundation.org. For media interviews, please contact, Stacey Nickens at shnickens(at)live(dot)com or 901.831.7736.
About the ME8Foundation
The ME8Foundation exists to strengthen the fabric of our community through philanthropic gifts in the areas of public service, education, preventive health, community development as well as broadening the awareness of issues that plague our community.
Contact:
Stacey H. Nickens
Shnickens(at)live(dot)com
901.831.7736