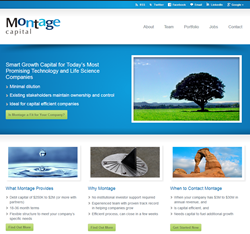 Cupertino, Ca (PRWEB) January 22, 2014
Montage Capital, a leading provider of minimally dilutive growth capital to technology companies, is experiencing broader demand for its strategic debt financing solutions. Doubling its investment pace from 2012 and 2013, Montage Capital appears to have hit a nerve among entrepreneurs and early investors who are seeking to preserve ownership and control while supporting their companies' growth objectives.
"An increasing number of technology companies are choosing to take a capital efficient approach from inception," according to Eric Gonzales, Managing Director at Montage Capital. "Montage Capital is often a great fit to support these companies' growth objectives, as we are comfortable being the first institutional capital provider, and as a small fund with an average deal size of approximately $1 million, our fund is sized appropriately for the modest growth capital requirements of today's capital efficient technology companies."
Recent Montage investments fall into three broad categories. Where Montage sees the most opportunity is with angel-funded or founder-funded companies that are not mature enough to obtain traditional bank debt, but would prefer to raise debt over equity to fund growth. Recent investments in Medrio and Boardwalktech are good examples. Boardwalktech CEO Andy Duncan also points out, "Montage has been extremely helpful after the investment, helping us establish a critical business partnership with another of its portfolio companies."
Another area where Montage is getting traction is with companies who are more mature and can attract a small amount of traditional bank debt, but would prefer to supplement that with a small amount of additional subordinated debt instead of additional equity. Montage's recent investment in Seattle-based Enprecis is a prime example of this type of opportunity.
The third category where Montage is experiencing significant dealflow is with venture-backed companies that are not quite ready to raise a new equity round but instead would prefer to raise a small amount of debt to hit specific milestones. ConnectAndSell, Memeo, and Proformative are excellent examples of this category that were recently funded by Montage Capital. Memeo CEO George Northup mentions that "Montage is uniquely positioned to help capital efficient companies with their growth needs. They moved at warp speed to provide a small amount of subordinated debt to help us attain additional key objectives, allowing us to avoid the time consuming process of raising more equity, and also allowing the management team and early investors to avoid dilution at a critical stage."
About Montage Capital
Montage Capital is a leading provider of minimally dilutive growth capital to technology and life science companies. Montage's debt-oriented funding solutions allow founders, management teams and early investors to maintain control and ownership of their companies, while obtaining the capital they need for growth. Based in Cupertino, California, Montage is well-positioned to support the increasing number of founder/angel funded companies which are revenue-generating, near cashflow breakeven, and do not require significant additional capital to achieve their next set of milestones. For more information please visit http://www.montagecapital.com or call 408-973-7829.