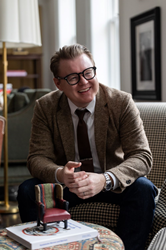 "Designing a chair is complicated, and you really need an understanding of anatomy," Young tells "Mountain Living" magazine.
BILLINGS, Mont. (PRWEB) February 28, 2023
Owner and creative director of venerable Western design house Kibler & Kirch in Billings, Montana, Jeremiah Young has thought a lot about chairs. In fact, "Mountain Living" magazine recently profiled the Montana designer as embracing "the joy of sitting" as a chair expert and sometimes chair-designer in its new March/April 2023 issue. Whether curating them for client interiors or designing them in collaboration with the rustic icon Old Hickory Furniture Company, Young's favorite seats combine classic silhouettes and top U.S.A. workmanship with gold-standard comfort. So when "Yellowstone" star Luke Grimes showed up in a "Country Living" cover story in the Lolo folding chair that Young had designed for Old Hickory, the designer was honored, but not exactly surprised.
Handcrafted from hickory saplings with a sling of Pendleton wool backed in sturdy, supple leather, and named for the Montana town of Lolo near a historic 1805 Lewis and Clark campsite, the chair provides the ideal "camp-style" combination of "incredibly primitive and perfect in operation," Young says. "The great thing about the Lolo is that it seems like something Old Hickory should have invented; I'm pretty sure this should have been in the Old Hickory 1913 catalog," he adds with a laugh.
While the Lolo may say "chair" in its simplest form, its nod to history, fine level of detail and suggestion of a nostalgic honesty are attributes Young reveres in all his favorite pieces. "What make a 'perfect' chair is that it can be 'perfect' in a variety of interiors. It must have elements of masculine and feminine, be both soft and hard. The best pieces of furniture are the ones that you can't exactly pin down what style it is, but know it can be transformed by fabric or leather to sit gracefully in lots of different interiors," he says.
"Designing a chair is complicated, and you really need an understanding of anatomy," Young tells "Mountain Living" magazine in its profile of the Montana designer. Kibler & Kirch has memorialized some favorite chairs in the "Design School" blog on its website. One such chair, the Eliza, originally created by iconic designer Thomas O'Brien for the lobby of the 60 Thompson Hotel in New York City, is "chameleon-like. We've made these in all manner of fabric and leather combinations – for all manner of design clients – to rave reviews," writes Young for one blog post. And the blog calls the Ludon Chair by Classic Leather a Kibler & Kirch "all-time favorite" – a "handsome stunner" with "a small footprint but a big sit. This chair isn't over-scaled but fits nearly every body type."
North Carolina-based Hickory Chair is another Kibler & Kirch top source, prized for their master craftsmanship. "Though our clients tastes are diverse – leaning traditional, rustic, transitional or contemporary – we try to always tell the story of place," which includes embracing a "subtly Western" vibe, Young tells the latest issue of Hickory Chair's "Made for You" magazine. The interview opens with a photo of an Elliot Wing Chair – inspired by a Hickory Chair wingback from the 1930s but with an elevated cleanness of line – for which Young selected an oversize botanical print that is at once modern and nostalgic. "It's always surprising how we can transform a piece of furniture with fabric or incorporate details to make it fit a Western interior," he says.
Another Hickory Chair offering, the Gunnison Chair, rates a Kibler & Kirch blog post as "One Perfect Thing." With its variegated natural leather and rolled arms, it "sits comfortably in rooms across a spectrum of styles. Timeless, delicate, and yet very robust … you will love it more as the years pass," the blog promises.
Indeed, Young has a special love for leather chairs' ability to age gracefully. By choosing pieces that improve "through us touching them and using them, they look better and become better with age," he told "Cowboys & Indians" magazine earlier this year, like an old saddle that's been "well-used but beautifully cared for," burnished and oiled over time. "Quality wins," Young says of Kibler & Kirch's timeless approach, destined to create instant heirlooms. "We don't want anything in our designs that isn't capable of lasting for generations."
About Jeremiah Young's Kibler & Kirch:
Annually recognized on "Mountain Living" magazine's Top Mountain Designers list and seen in national media from "Country Living" to the "Wall Street Journal," Kibler & Kirch resonates with a distinctive – and distinctly Western – style. Its Billings, Montana, showroom represents more than 100 companies featuring a carefully curated collection of American-made furnishings and décor ranging from rustic to refined. And owner and creative director Jeremiah Young and staff bring those resources – and deep connections with regional artists and artisans, including those represented by Young's Stapleton Gallery – to bear on crafting timeless interiors for clients where the spirit of the West meets modern treasures that are built to last. Follow Kibler & Kirch on Instagram and for more information, visit http://www.kiblerandkirch.com.