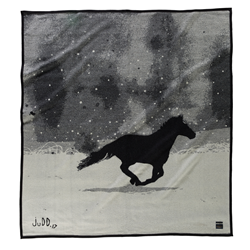 The selection of Judd Thompson's work is a lifetime honor – especially significant for a young artist.
BILLINGS, Mont. (PRWEB) October 09, 2019
Pendleton, the iconic 150-year-old Oregon woolen mills, has selected a painting by Montana artist Judd Thompson as the latest subject for a blanket in its prestigious Artist Collection. Created from his painting "A Horse Called Paint," a reflection of Thompson's unique perspective growing up on the Crow Indian Reservation outside of Billings, Montana, the new blanket received its official launch at the Western Design Conference Exhibit + Sale in Jackson Hole, Wyoming, in September in a special exhibit of Thompson's work by Stapleton Gallery, which represents the artist.
"This is not just a blanket design, it's really textile art, being offered in a limited edition," says Jeremiah Young, Stapleton Gallery owner and co-curator. "The selection of Judd Thompson's work is a lifetime honor – especially significant for a young artist."
Growing up and working in his parents' store and restaurant in Crow Agency, Montana, Judd Thompson wasn't aware of how Pendleton blankets would influence his art. Yet the color and geometric forms that emerge from his paintings reflect the crafts and wares that punctuated his formative years. At 36, the artist uses his art to tell stories.
Through the family business, the Custer Battlefield Trading Post on the Crow Indian Reservation, Thompson, an adopted Crow, experienced an intimate side of Native culture that he portrays through his work, using diverse expressions in realism, landscapes and abstract designs that draw upon the patterns in beadwork and fabrics he grew up around. His portraits of Crow Indians depict figures of the past in full regalia, edged with contemporary jolts of color and line. To render this range of work, Thompson uses a variety of media, including oil, acrylics, watercolor paints and spray paint, as well as pen and ink and Prismacolor markers. He names renowned Crow artist and Montana Governor's Arts Award for Lifetime Achievement-winner Kevin Red Star, also a Stapleton Gallery artist, as an influence, as well as the historic work of photographer Edward Curtis, who is best known for masterfully chronicling an array of Native American portraits from a multitude of tribes.
In contrast to his usually vibrant palette, Thompson's Pendleton blanket image depicts a bold three-toned silhouette of a running horse in black, white and grey. "A Horse Called Paint" represents the importance of the majestic figure of the horse in the Crow Indian culture, he explains.
Thompson has always been an artist. He studied formally at the University of Wyoming and earned a degree in art and art history. In 2016 he began to focus on his painting in earnest and found common ground with representation at Stapleton Gallery, where he credits Jeremiah Young's incredible support of his growth as an artist. Since then, his work has become highly sought after by collectors, allowing him to dedicate himself to his art full time. "This blanket is symbolic of having my running shoes on and my feet under me professionally," says Thompson.
According to Amanda Coppa, Senior Merchandise Manager at Pendleton's home office in Portland, Oregon, the company has been transforming works by select artists into blankets for decades, on average commissioning the work of two or three artists each year. "While Judd has many beautiful pieces, 'A Horse Called Paint' was selected for its simplicity in both color and design," says Coppa. "Horses have always been a popular motif and we loved the motion that this design evokes. It will be a stunning piece of art, whether featured on a wall, draped over a sofa or on a favorite chair."
"When we first started working with Judd, we recognized the Pendleton blanket references in his paintings," says Young, who with co-curator Abigail Hornik-Minckler created an "Artists-in-Residence" exhibition of Thompson's work titled "Paintings Inspired by Pendleton Blankets" back in 2017. "He grew up around them in his family's store, so in many ways it was an unconscious inspiration. With this blanket project the relationship comes full circle: an artist whose work has been inspired by Pendleton blanket designs inspires a blanket," concludes Young.
The Pendleton woven wool blanket rendering of "A Horse Called Paint" is 64 x 72 inches and retails for $269. The Pendleton Artist Collection featuring Thompson's "A Horse Called Paint" is available for sale on http://www.pendleton-usa.com. Hand-signed, first-run editions of the blankets are for sale on the Stapleton Gallery website for $300. The gallery plans to exhibit a selection of Judd Thompson's original paintings later this fall.
About Stapleton Gallery:
In 2016, Jeremiah Young joined forces with co-curator Abigail Hornik-Minckler to launch Stapleton Gallery with a mission to nurture and celebrate authentic Montana artistry. The gallery's group of emerging and established artists work in a wide range of media from fine art photography to glass and bronze sculpture to a variety of painting materials and techniques. Young, also owner and creative director of venerable Western interior design company Kibler & Kirch, is passionate curating exhibits for art-lovers who appreciate the themes and creativity that go into the events, including recent installations "The Trophy Room," which featured tenting and taxidermy, and "The Keeping Season," which mixed extensive live floral elements among various representations of florals in art. For more information visit http://www.stapletongallery.com or follow on Facebook and Instagram.