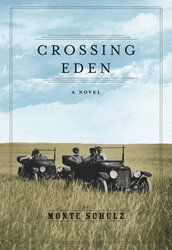 "My father's inspiration (Charles M. Schulz) guided my imperfect hand." - "Crossing Eden" Author Monte Schulz
Santa Barbara, CA (PRWEB) February 23, 2016
Noted author/composer Monte Schulz (Naughty, The Big Town, Seraphonium) will launch his Jazz Age historical fiction literary epic, "Crossing Eden", published by Fantagraphics Books, on Wednesday, February 24, 2016 at Chaucer's Books, 3321 State Street. Schulz will read excerpts from the novel he considers his life's work, meet fans and sign copies. Schulz wrote the 1086 page Great American Novel for his late cartoonist father, Charles "Sparky" M. Schulz, who introduced his son to great literary works.
The author gives credit to his father as the true inspiration to his writing "Crossing Eden" by showing him the way to beautiful American writing. Monte says, "Dad had me read wonderful lyric passages in 'Of Time and the River' and 'The Grapes of Wrath'. He persuaded me to dream of writing my own lovely paragraphs, my own great novel." Charles "Sparky" Schulz supported his son's ten years in the literary wilderness and before he died, told him that "Crossing Eden" was raising the level of art in the family. As the author says fondly, "My father's inspiration guided my imperfect hand".
"Crossing Eden" is the story of an American family in the summer of 1929, when a failed businessman divides himself from his wife and children, and a troubled farm boy runs away from home in the company of a gangster. It's also the tale of a nation in the last months of the Roaring Twenties, a glittering decade of exuberance and doubt, optimism and fear. Set equally among the states along the Middle Border, in a small East Texas town, and in a great gleaming metropolis, Crossing Eden chronicles the Pendergast family of Farrington, Illinois, cast apart by circumstance into the early 20th century landscape of big business, tent shows, speakeasies, séances, bank robberies, lynchings, murder, romance, circuses, and skyscrapers. Fantagraphics Publisher Gary Groth says, "It's a grand tapestry of the American experience in an age of transition from rural to urban, with our nation perched on the precipice of the Great Depression. It is also the story of us, as we once were, as we hoped to be."
To research this time period of his father's youth, Schulz felt that American history was told best through primary documents. He quit reading modern histories of the '20s and began instead to study newspapers, novels, magazines, letters and essays from the time, even his own grandparents letters, taking notes from each.
When asked what makes a Great American Novel, Schulz replies, "To me, such a novel must do its utmost to portray as broad a canvas of this nation as possible, with all its disparate geography and classes, its character and flaws, ideals and failures…describe a tapestry of American life, both macrocosm and microcosm, small lives and big, urban and rural, glittering and downtrodden…be both story and philosophy, emotional and instructive."
"Crossing Eden" is available on Amazon, Barnes & Noble.com and at FantagraphicBooks.com.
With a M.A. in American Studies from UCSB, Schulz published his first novel, "Down by the River" in 1990, and spent the next twelve years writing "Crossing Eden." Since 2010, Monte has been the owner of the Santa Barbara Writers Conference (SBWC) and has taught a class in voice and style both there and at UCSB.
Schulz is the composer/songwriter/producer/performer of the musical project, "Seraphonium," featuring seventy-two additional top musical performers. The CD received rave-reviews, Seraphonium's 2015 concert sold-out and one song, sung by Schulz, is currently enjoying a top ten spot on radio charts.
For more information on Monte Schulz, please visit monteschulz.com, Seraphonium.com, "friend" Monte on Facebook, and follow his literary quotes and lyrics on Twitter @monteschulz. For more information on the book signing, call Chaucer's at (805) 682-6787 and visit chaucersbooks.com.
Based out of Santa Barbara, CA since 2008, Innovative Creative is a PR company producing successful content and campaigns for music, film, publishing and non-profits. Visit innovativecreativeco (dot) com.