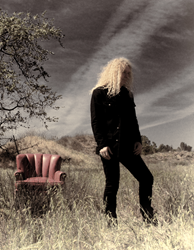 'We are thrilled to be bringing Swan Montgomery to the Greater Cincinnati area and would love to share his talent with as many people as possible!' said Kathryn Raaker of the Timeless Performers.
Cincinnati, OH (PRWEB) March 10, 2014
Born in Drogheda, Ireland, Swan Montgomery is a vocalist, musician and producer/engineer most notable for his role as "Robert Plant" in the internationally successful tribute band "Led Zepagain." Montgomery joined Led Zepagain 20 years ago and the group has toured the world including the U.S. and Canada, Europe, Japan, South America, etc., performing sold out shows worldwide in major international venues, concert halls, performing arts centers, etc. Swan has also created "Symphony To Heaven," a full-production acoustic show featuring Led Zepagain plus custom visuals and the accompaniment a classical string quartet playing original string arrangements to many of Zeppelin's classic acoustic songs. Montgomery is also the lead vocalist in a Celtic acoustic trio called the Murmurators.
Ogham has arrived. The much anticipated new album by Swan Montgomery is currently scheduled for wide release in summer 2014. Fusing the indigenous and traditional influences of his own Irish heritage with Eastern, African, and Native American textures, melodies, and rhythms, Swan and his long time partner Bo Weinberg have arrived at an artistic sound and expression that is truly one of a kind. The singular voice and spirit that is David Swan Montgomery is at last captured as never before. A purity, a passion, a unity… discover the album, experience the artist.
Swan will be on the Timeless Performers, the Chef You and I and City Nights which airs live on Time Warner and Comcast TV. He will be appearing on Kathryn Raaker's syndicated talk radio programs as well as rock stations in the area.
Swan will be in Cincinnati April 16th thru April 18th promoting the release of his new Album as well as to discuss the other ventures he is currently involved in both musically and professionally. Swan will be available for appearances and interviews during this time. If you would like to schedule Swan, Please feel free to contact Publicist Kathryn Raaker at 513-616-6986 or kraaker123(at)aol(dot)com. Thank you.