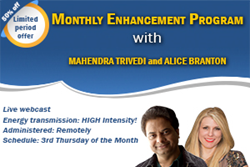 Las Vegas, Nevada (PRWEB) May 15, 2014
Master of Transformation Mahendra Trivedi and Trivedi Master™ Alice Branton will be hosting the Monthly Enhancement Program on May 15, 2014 at 9 PM ET and people will get an opportunity to bring an overall transformation in their lives.
The Monthly Enhancement Program will include-

An interactive group discourse, providing deep insights and life-changing perspectives on health, relationships, spirituality, prosperity, and more.
Q&A session, where people can ask questions and share their experiences with Mahendra Trivedi and Alice Branton.
A remote Group Energy Transmission, simultaneously to all the participants from various ethnicities and cultures.
Mahendra Trivedi has introduced the Monthly Enhancement Program to provide people an opportunity to receive the immense benefits of at least one Energy Transmission in a month. On the third Thursday of every month the participants receive powerful Energy transmission from Mahendra Trivedi and Trivedi Master™ Alice Branton at the same time.
This program is designed to help people with their overall transformation, including improvements in such areas as physical, emotional, mental, sexual, spiritual and financial as well as enriching of personal relationships.
It is recommended to stay on the Monthly Enhancement Program, which is designed to help people reach their optimal potential over time at a very affordable price, for a minimum of six months for gaining best outcomes. On registering for a six-month subscription to attend one Monthly Enhancement module per month, a 50 percent reduction in price will be received by the participants.
Mahendra Trivedi is famous for his ability to transmit Universal Energy through the power of his thoughts. This phenomenon, which is known as The Trivedi Effect® helps people to strengthen their connection to their inner guidance system, thus bringing an overall positive transformation in every sphere of their life.
Many of the tens of thousands of people have reported to have benefited from the Energy Transmissions of Mahendra Trivedi. They have reported living a life full of confidence, mental clarity, optimism and peace.
Over 4,000 scientific experiments have been carried out at reputed research institutes and universities to test the impact of The Trivedi Effect®, and have verified it. The results of many of these experiments have been published in international peer-reviewed scientific journals. Anyone can read about those experiments on Trivedi Science website.
The Monthly Enhancement Program is one of the programs by Mahendra Trivedi where people will get a chance to bring improvement in their health, psyche and overall well-being. They can register for this program on http://www.trivedimasterwellness.com/services/monthly-enhancement-program/.
About Trivedi Master Wellness™:
Mahendra Trivedi has the unique ability to transmit Energy Transmissions known as The Trivedi Effect® and has the scientific evidence to prove it. This phenomenon of Energy Transmission has been tested in over 4,000 experiments conducted using stringent methodologies and the most advanced technologies available on this planet. Many results have been published in leading international, peer-reviewed, scientific journals. Each experiment shows significant transformation with consistent results. The resulting changes show that this energy has the remarkable ability to improve the functionality and potential of an individual. Trivedi Master Wellness™ established in 2011 is intended to provide the benefits of The Trivedi Effect® to optimize human potential throughout the world.
Websites: http://www.trivedimasterwellness.com/, http://www.trivedieffect.com/, http://trivedifoundation.org/, http://trivediproducts.com/
Call us on: +1-877-493-4092
For inquiries please mail us at: cs(at)trivedieffect(dot)com