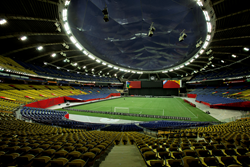 We are honored at the opportunity to provide a world-class football turf field which will host some of the game's top talent.
Austin, Texas (PRWEB) June 08, 2015
The football turf pitch at Montreal Olympic Stadium has been successfully installed and certified to FIFA Two Star status, to be categorized as an elite level playing surface.
As the established surface for the FIFA Women's World Cup Canada 2015, synthetic turf will be used throughout all six tournament venues, to provide a consistent, equal, all-weather playing surface. The Montreal Olympic Stadium will host Spain against Costa Rica June 9 at 16:00 local time, and be used throughout the tournament, including the quarter-final (June 26) and semi-final (June 30) matches.
"We are honored at the opportunity to provide a world-class football turf field which will host some of the game's top talent," said John Baize, director of Act Global.
The synthetic turf—named Xtreme Turf—was produced at Act Global's ISO 9001 USA facility to ensure the highest quality and latest turf technology. An exclusive monofilament yarn blend, developed in collaboration by Bonar Yarns and Act Global, offers an ideal balance of performance, skin friendliness and durability. The dual-fibre system has been tested to greatly exceed the needs of a top international stadium.
"By identifying the needs of the player and how natural grass performs, we have developed a synthetic turf playing surface proven to have similar performance and safety measurements to top natural grass pitches," said Baize.
The artificial turf was expertly installed by Carpell Surfaces over a Schmitz Foam ProPlay shock pad and finished with eco-friendly infill. The underlayer and infill provide the optimal amount of shock absorption to deliver an ideal, safe playing surface. The high-profile installation required Carpell to complete the work within a tight installation schedule and to the highest standards to meet FIFA's tournament requirements.
The Montreal Olympic Stadium field has passed rigorous laboratory and field testing for qualities such as tuft bind, durability, UV stability, ball behavior, traction, deformation and shock absorption to meet FIFA Two Star criteria. A FIFA Two Star Recommended pitch will offer the highest level of performance, tailored towards the needs of elite football and international sport.
"I look forward to attending the games at Montreal Olympic Stadium, and sharing in the excitement with fans around the world," said Baize. "Best wishes for a memorable tournament to all players and teams!"
The FIFA Women's World Cup Canada 2015 will take place from June 6 to July 5. For more information visit Fifa.com.
###
About Act Global
Act Global has invested heavily in R&D, testing and ISO 9001 manufacturing facilities to produce artificial turf fit for top athletes and competitive play. The company is a world leader in synthetic turf manufacturing, with installations in over 70 countries. Act Global's artificial turf products replicate natural grass for use in international stadiums, indoor sport centers, synthetic lawns, airports, landfills and other synthetic grass uses. Act Global is a FIFA Preferred Producer for Football Turf, World Rugby Preferred Turf Producer and Synthetic Turf Council Certified Manufacturer.
About Carpell Surfaces
Carpell Surfaces, based in Quebec, Canada, specializes in the installation of eco-friendly, high performance, artificial surfaces for football, soccer, athletics tracks, tennis courts and playgrounds in schools, parks and day-nurseries. The company has installed more than 1,200 turnkey projects.
About Bonar Yarns
Bonar Yarns has been synonymous with synthetic turf since 1965, making innovative, ground breaking fibres that have transformed both sport and landscape. Bonar Yarns products are tested and approved by independent FIFA and World Rugby test houses and are used in FIFA 1 and 2 star accredited sports pitches, as well as World Rugby and FIH approved pitches.