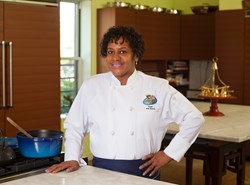 Chef Iris excels at originality and reliability. She will be a boon to our efforts to reestablish Moo & Oink with an unparalleled level of excellence.
(PRWEB) September 13, 2013
Moo & Oink, the iconic Chicago BBQ company, named Chef Iris Davis as a new Corporate Chef. She is available as a Moo & Oink spokesperson for events and as an entertaining television personality. She is currently developing new recipes made from Moo & Oink products which will be tested at the company's kitchens.
"We welcome Chef Davis to our Moo & Oink team," said Dave Van Kampen, Chief Herding Officer of Moo & Oink, LLC. "She excels at originality and reliability. She will be a boon to our efforts to reestablish the brand with an unparalleled level of excellence."
Chef Davis's experience started in East St. Louis when she was a child watching her mother, a full time nurse, in the kitchen. By the age of 10, she was finishing preparations for meals for herself and four siblings.
She works closely with Chef Art Smith, Oprah's personal chef for ten years and the owner of several restaurants including Chicago's Table fifty-two. For several years, Chef Davis has cooked southern fried chicken for the menu item "Fried Chicken and Waffles" at Table fifty-two's renowned Sunday brunches. Also under Chef Smith's direction, Chef Davis has cooked for the George H. W. Bush family in Naples, FLA, and for special occasions for the Barack Obama family, prior to Mr. Obama being elected president.
She is known for southern cooking and culinary innovation, and she prides herself on her fresh approach to food with superb results. Some of her favorite Moo & Oink products are the breakfast sausage, chicken breast patties and beef patties.
Moo & Oink is known for its selection of meat and its commercial jingle from the '80s and '90s, and it was thought to be gone forever after a 2011 bankruptcy of the Moo & Oink grocery stores. Best Chicago Meat Co., partnering with Dutch Farms, purchased the Moo & Oink brand in Dec. of 2011 with the intention of bringing the most popular items to grocery stores across the Chicagoland and Northwest Indiana area.
"I am thrilled to have the opportunity to educate the public that Moo & Oink is not gone," Chef Davis said. "Moo & Oink has been such a staple in Chicago, and it's very good news that the products are back.
Chef Davis donates time and talent as a volunteer of Common Threads, a non-profit charity which focuses on teaching children about different cultures through food and art.
She attended Illinois State University, Bloomington, IL, and married Darryl Davis soon after. The couple has a daughter, Lauren, who lives in Austin, TX.
About Moo & Oink
Moo & Oink provides an array of Chicago-style BBQ meats and grilling essentials including meaty rib tips, chitterlings, hot and mild links, sausages, breakfast links and patties, breaded chicken tenderloins and nuggets, and the best darn BBQ sauce known to man. Moo & Oink has a strong commitment to making great tasting and affordable food to mark any occasion. From a BBQ in the park or the backyard grill to a Sunday family dinner, Moo & Oink is real people food.
The legendary brand is owned and operated solely in Chicago and has been a staple in the Chicago community for more than 40 years. Products are now available in 300 stores in five states – Illinois, Indiana, Wisconsin, Michigan and Minnesota. In addition, Moo & Oink products can be shipped anywhere in the continental United States. For more information, call 773-523-8161 or visit: http://www.moo-oink.com. To order online, visit: http://www.tastechicagosbest.com.