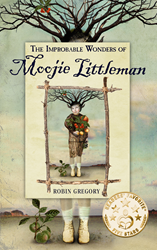 Even rats have families, you know. Even monkeys and fish. Aren't I as good as a fish?
Carmel, California (PRWEB) August 11, 2015
November 1, 2015, Mad Mystical Journey Press will release Robin Gregory's stunning debut, young adult novel, "The Improbable Wonders of Moojie Littleman."
It is the story of a disabled boy who is abandoned by two sets of parents and seeks to create a family of his own. Forbidden friendship, first love, and miraculous events take place at St. Isidore's Fainting Goat Dairy, revealing an extraordinary boy's tale of loss and connection, self-discovery, and the miraculous power of forgiveness.
Advance Praise:
"Wow! Wonderful lyricism and magical reality. Captivating," said Lisa Rojany.
"Gregory's storytelling skills are inspired … Some passages are so lovely that I found myself rereading them to more fully appreciate the masterful blending of sound, sense and meaning," stated Reader's Favorite.
"The prose is as clear as stream water, the pacing perfectly tuned to the narrative's rises and falls, the atmospheric textures tapestry-like ... It warms the heart," said Sherod Santos.
Set in the early 1900s, The Improbable Wonders of Moojie Littleman is a heartrending, coming-of-age story, with a dose of humor and magical realism. After his mother dies, disabled Moojie is sent from the mythical American village of San Miguel de las Gaviotas to live with his grandfather at St. Isidore's Fainting Goat Dairy, where he discovers a clan from an alternate universe. Moojie shares more than supernatural powers in common with the ones who call themselves Light-Eaters. Anxious to re-create a family of his own, he undergoes life-changing trials, trials complicated by the girl he falls for, a bully-magician, a cantankerous, war-hero grandfather, and a meddlesome, Irish aunt. Moojie must decide who he belongs with. An earthquake forces him to make a last-ditch effort to save what family he has, a harrowing rescue which completes his miraculous transformation and makes him a hero.
Robin Gregory has worked as a lay minster and a journalist in the US. Currently, she lives in California with her husband and son. The Improbable Wonders of Moojie Littleman is her first published novel.