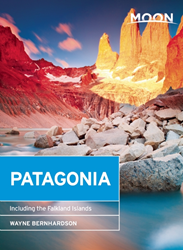 Family-run enterprise that shows patience in arranging flights and constructing itineraries
Los Angeles, CA (PRWEB) December 14, 2015
Eureka Travel has been recommended by Moon travel guide series writer, Wayne Bernhardson, he has published Trip of a Lifetime - PATAGONIA, updated for 2015. He is renown for nearly three decades of yearly trips to Patagonia visiting both Chile and Argentina as far as Tierra del Fuego. In this new edition he has recognized Eureka Travel as one of only a few recommended companies offering specialized travel services in the region. Eureka Travel is pleased that he mentioned patience as one of their strengths, so essential to the complexities of travel today.
About Eureka Travel ( http://www.eurekatravel.net)
The sisters and staff of Eureka Travel are South American specialists and their customized travel packages ensure their clients will enjoy their adventure their own way, at their own speed. Analia and Cecilia were born and raised in Buenos Aires, lived and studied in northern Patagonia, have extensively traveled to many parts of Argentina, Chile, Peru, Bolivia, Brazil, Uruguay, and Ecuador, and are fluent in Spanish and English.
Analia runs the business from the office in Los Angeles, while her sister and three other Eureka staff members assist travelers from their hubs in South America. This insures a strong local and cultural support system. Analia and husband Darek return to South America each year not only to see family but also to research new and exciting places to take their clients. Over the years they have developed personal relationships with many local suppliers and tour companies who are specialists in their regions.
Contact:
Analia Rupar-Przebieda
(818) 841-8624
analia(at)eurekatravel(dot)net
http://www.eurekatravel.net