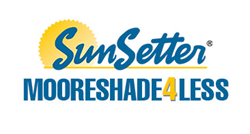 SunSetter retractable awnings are the #1 best-selling awnings in America.
Medina, Ohio (PRWEB) May 22, 2014
MooreShade4Less unveils a new website which makes it easier than ever for customers to shop for SunSetter awnings and accessories. The new website allows customers to browse images of SunSetter awnings, retractable awnings, motorized awnings, shade products, and patio covers. The site features sharper product images, easy-to-view product details and sleek site navigation.
MoreShade4Less sells SunSetter retractable awnings, the #1 best-selling Awnings in America. Says Jim Moore, owner at MooreShade4Less, "The SunSetter Motorized PRO and PRO XL models are our top of the line SunSetter Awnings, with a remote control and an exclusive built-in front weatherbreaker panel hidden in the front roller bar for instant shade protection." This discreet weatherbreaker can be unrolled up to 5 feet or anywhere in between and blocks out up to 90% of sun and wind, but it allows in air and light. The weatherbreaker operates with a simple hand crank (included). It offers the ultimate in shade, protection, and ease of use, with a choice of beautiful woven acrylic fabric or traditional laminated fabric.
SunSetter awnings from MooreShade4Less provide cool shade and protection, but retract unobtrusively when sun is desired. Temperatures can be as much as 20 degrees cooler under a SunSetter. They protect skin from harmful UVA and UVB rays, and help cut air conditioning bills and energy usage by blocking the hot sun before it penetrates windows and sliding glass doors. Exceptionally affordable, they provide custom-made beauty and uncompromising quality-without a custom-made price.
Also featured on the site are SunSetter awning accessories sold by MoreShade4Less, including:

Protective Aluminum Awning Hood: The aluminum hood provides exceptional protection for the awning fabric and motor when the awning is closed.
Wireless Wind Sensor: Closes awning automatically on windy days. Made by Somfy. Battery powered.
Dimming LED Lights: Gorgeous lights that attach to the bottom of the awning arms to illuminate your covered space. You never have to take them down, even during awning operation. Includes a 4-channel remote control to turn lights on and off. Works like a dimmer switch, allowing you to "set the mood" for soft or bright illumination.
Front Weatherbreaker Panel: Helps block 90% of sun, wind, and mist from coming in the front and sides while allowing in filtered light and gentle breezes.
Awning Cover: Keeps awnings neat and protected from cobwebs, birds, and dirt. Attaches with simple grommets for a snug fit. For all awning models.
Patio Lights (Set of 6): Weatherproof lights for enjoying the awning during evenings by providing a beautiful soft light. With 20 foot cord. Lights hang from simple sliding hooks for easy spacing across a deck/patio. UL and CSA listed. For all awning models.
Cleaning Kit: Keeps awnings looking new. Includes long-handled brush, cleaning concentrate, touch-up paint and repair kit.
Side Weatherbreaker Panels: Help block 90% of sun, wind, and mist from coming in the front and sides of your awning, letting in filtered light and gentle breezes. For all awning models.
SunSetter Mat - Adds style and comfort while protecting deck or patio surfaces-and bare feet! Mildew and flame resistant. Three sizes: 9 ft. x 9 ft. 9 ft. x 12 ft. and 9 ft. x 16 ft.
About MooreShade4Less
MooreShade4Less is a family owned business with 10 years of experience installing SunSetter awnings across the US. Over the past 10 years MooreShade4Less has become the largest national authorized SunSetter dealer. MooreShade4Less strives only to employ top of the line professionals that reflect our commitment to give our customers the best quality available. MooreShade4Less awning specialists, on average, have over 4 years of awning sales and installation experience, are fully insured, and they provide the best customer service available in the industry. Our awning specialists will ensure your experience is exceptional from the first phone call through the entire installation. MooreShade4Less has over 5,000 satisfied SunSetter customers across the US. For more information about MooreShade4Less or to receive a free in-home estimate call or visit http://www.mooreshade4less.com.
Locations serviced by MooreShade4Less SunSetter awning specialists include: Broadview Heights OH, Medina OH, Cincinnati OH, Columbus OH, Scottsdale AZ, Las Vegas NV, Lexington KY, Independence KY, Crestwood KY, Tulsa OK, Hanahan SC, Columbia SC, Florence SC, Marietta GA, Indianapolis IN, Camby IN, Bloomington IN, Ooltewah TN, Knoxville TN, Nashville TN, Johnson City TN, Athens AL, Raleigh NC, Statesville NC, Archdale NC, W Des Moines IA, Sarasota FL, Saline MI, Kalamazoo MI, Grand Rapids MI, Chatham IL, Loves Park IL, Fayetteville AR, Beebe AR, New Orleans LA, Wichita KS, Brownsville PA, Gibsonia PA, Vista CA, Thousand Oaks CA, and RidgeIand MS.