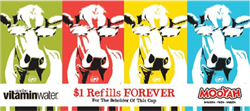 DALLAS, TX (PRWEB) June 23, 2015
MOOYAH Burgers, Fries & Shakes, a fast-casual, "better burger" chain is launching a new promotion and satisfying the thirst of their Guests when they purchase a large drink. This limited-time only refillable cup will reward their loyal Guests with a 30 oz. heavy-duty cup and a lifetime of beverage refills for just a buck.
Beginning on June 22nd, 2015 every participating MOOYAH Burgers, Fries & Shakes location will receive a limited quantity of cups, featuring an Andy Warhol-meets-MOOYAH inspired theme.
"We wanted to thank our faithful MOOYAH Guests in a way that would be fun and valuable," said Natalie Anderson Liu, director of marketing for MOOYAH Burgers, Fries & Shakes. "What better way than with a fun, vibrant cup that allows them to get $1 refills through the heat of the summer and beyond? The playful, pop art inspired design contributes to the drinking experience whether at home, school or work."
MOOYAH Burgers, Fries & Shakes will be celebrating this campaign across its social media channels, getting fans involved on Facebook, Twitter and Instagram as well as their text and email Loyalty Club and the company website: http://www.MOOYAH.com.
This promotion will continue until restaurants have run out of the limited quantity cups.
"We are always looking for ways to reward our Guests for their loyalty," said Michael Mabry, chief operating officer of MOOYAH. "This $1.00 deal will keep our customers' thirsts quenched as long as they keep coming back for our customizable burgers and hand-cut fries."
At MOOYAH, Guests have the advantage of choosing from a variety of bun options, such as baked in-house artisan white or multigrain wheat buns and hand-crafted lettuce buns to accompany the never-frozen 100 percent American beef patty, all-natural Jennie-O turkey patty or the mouthwatering black bean veggie patty. Each gourmet burger can be customized with five cheese options, Applewood smoked bacon, sliced avocado, along with nine free veggie toppings and 11 free sauces.
MOOYAH French fries come together in a six-step process that takes a total of 24 hours to completely prepare. A delightful combination of constant attention and a little magic help transform U.S. #1 Idaho potatoes into perfect, crisp-on-the-outside and fluffy-on-the-inside fries. Guests also have the choice of savory sweet potato fries. Never one to forget dessert, MOOYAH offers real ice cream shakes, allowing Guests to choose from 10 flavors ranging from vanilla to Hershey's chocolate to Reese's to strawberry banana and more.
In 2015, MOOYAH is on pace to open 30 new locations and reach the milestone of 100 before the close of the year. The booming better burger brand is set to enter several new states in 2015, with the first MOOYAH restaurants in Indiana, Ohio, New York, Massachusetts, and Florida scheduled to open this year. Additionally, the brand will increase their established presence in states including California, Texas, Illinois, and Louisiana, with five more scheduled openings in New Jersey alone. The brand continues to spread the unique MOOYAH experience beyond domestic borders too. MOOYAH will open their first restaurant in Qatar in 2015, marking the 7th country MOOYAH has entered outside the U.S.
For more information on the growing brand, connect with MOOYAH on Facebook at the MOOYAH Burgers & Fries Fan page or follow MOOYAH on Twitter @MOOYAHBurger.
For franchising opportunities, please visit http://www.mooyahfranchise.com/ .
ABOUT MOOYAH BURGERS, FRIES & SHAKES
MOOYAH Burgers, Fries & Shakes is a fast-casual, "better burger" concept offering mouthwatering made-to-order burgers, French fries hand cut from Idaho potatoes, and real ice cream shakes. Founded in 2007, the Plano, Texas-based company serves fresh, lean American beef, all-natural Jennie-O® turkey burgers, black bean veggie burgers, buns baked in house daily, real cheeses and toppings made from garden-fresh veggies. While many Guests dine in-restaurant, MOOYAH also offers online ordering and carry out for Guests on the go. In 2014, MOOYAH was named in Entrepreneur Magazine's list of the top 500 franchise brands. Since taking the No. 1 spot on Fast Casual magazine's annual Top 100 Movers & Shakers in 2009, the brand has ranked in the top 50 every year since. MOOYAH also landed on the list of the Top 10 Fast Casual Growth Chains by Technomic, Inc. In 2013, the brand was ranked 1st overall in Restaurant Business's Future 50 list. For more information on MOOYAH, its menu or franchising opportunities, please visit http://www.MOOYAH.com. Connect with the brand on http://www.facebook.com/MOOYAH and follow on Twitter @MOOYAHburger.
###