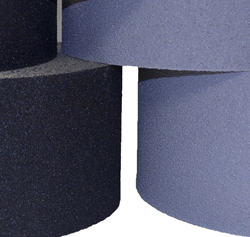 The truck manufacturer liked the cost savings our anti-slip tape affords to repair damaged surfaces without removing the vehicle from service
Cleveland, Ohio (PRWEB) October 19, 2015
New Mop Top Washable Anti-slip Tape features a mineral surface designed for both slip-resistance and faster cleaning. Mop Top uses a rounded grit-coated polyester film to reduce the friction between string and sponge style mops for faster and more thorough cleaning. This same film also makes the durable anti-slip tape very resistant to fraying and disintegration.
The new tape is UV blocked to resist color fade, and uses a powerful adhesive that allows it to bond securely to powder coated surfaces. This makes it ideal for a variety of applications, including truck beds that receive heavy traffic.
The new tape was used for a Canadian truck builder to replace the current anti-slip coating on truck beds. The existing coating did not hold up, and trucks needed to be taken out of service to reapply the coating.
Martinson-Nicholls provided the new Mop Top Tape, which offered both a more durable surface, and one that could be quickly replaced on truck beds suffering extreme abuse. Mop Top allows immediate replacement of damaged sections--just clean the surface, apply the tape, which requires no drying time. According to Martinson-Nicholls, "The truck manufacturer liked the cost savings our anti-slip tape affords to repair damaged surfaces without removing the vehicle from service."
Mop Top meets and exceeds OSHA and ADA federal specifications for slip-resistance. It is offered in three-color options of black, gray or white. The new Mop Top Anti-slip Tape comes standard in 60-foot long rolls in 2, 4, 6 and 12-inch widths. Other widths ranging from 3/4" through 24" are also available, as well as standard or custom die cuts for specific shapes. Martinson-Nicholls offers standard die-cut sizes of 6" x 24", 3/4" x 12", 3/4" x 18", 3/4" x 24", 1" x 12", 2" x 24", 3" x 24", 5.5" square, and 5.5" round.
About Martinson-Nicholls
Martinson-Nicholls, has established itself as a leader in custom anti-slip tape, floor mats, and eco-friendly products for more than 60 years.
Martinson-Nicholls provides the customer with the exact size matting needed--small, large, standard, nonstandard, special shapes and logos. Custom installations are also a specialty of the company.
Anti-slip safety tapes and treads are available in various sizes and textures from hand cut or die cut pieces to full rolls and special shapes. For more information, please visit http://www.floormat.com.