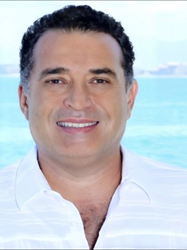 Today, Applegate Realtors, led by Moray Applegate, is one of the top brokerage firms that specializes in Luxury Real Estate.
PUERTO VALLARTA, Mexico (PRWEB) May 26, 2023
Born and raised in Puerto Vallarta, Moray is the son of Bernardo and Teresa Applegate, the visionary couple who in 1967 founded CAPSA, the first company to build Luxury Homes in the south shore of Banderas Bay.
Back when Puerto Vallarta was only known to a selected few, Bernardo Applegate almost single-handedly built the Santa Barbara Road, the only existing street in Conchas Chinas back in the day, which until this day is synonymous with the timeless Mexican charm of Puerto Vallarta.
Moray's dear mother Teresa, since 1967, managed the houses that Bernardo built and following their footsteps, their son started his own brokerage company in the mid 80's.
Today, Applegate Realtors, led by Moray Applegate, is one of the top brokerage firms that specializes in Luxury Real Estate. With over thirty years of experience, Moray is one of the longest-tenured brokers in Vallarta.
If you want to learn about the Real Estate scene in Vallarta, you should talk to him. His passion for his work is contagious. As a true local, Moray is the heir to a noble tradition of Real Estate and it shows. His mindset is to improve the lives of the people of Vallarta through his work and to advocate for sustainable urbanism that strives for modernity while honoring tradition. All this ensures that the Applegate legacy will continue to thrive for generations to come.
Visit Moray Applegate's Haute Residence Profile: https://www.hauteresidence.com/member/moray-applegate/
ABOUT HAUTE RESIDENCE
Designed as a partnership-driven luxury real estate portal, Haute Residence connects its affluent readers with top real estate professionals, while offering the latest in real estate news, showcasing the world's most extraordinary residences on the market, and sharing expert advice from its knowledgeable and experienced real estate partners. The invitation-only luxury real estate network, which partners with just one agent in every market, unites a distinguished collective of leading real estate agents and brokers and highlights the most extravagant properties in leading markets around the globe for affluent buyers, sellers, and real estate enthusiasts. HauteResidence.com has grown to be the number-one news source for million-dollar listings, high-end residential developments, celebrity real estate, and more.
Access all of this information and more by visiting http://www.hauteresidence.com