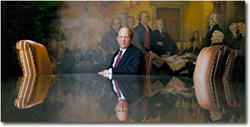 St. Louis, MO (PRWEB) September 11, 2014
A study published by the Journal of the American Medical Association (JAMA) shines new light on the link between gynecologic morcellator surgery and the spread of cancer.* While morcellator surgery has been in practice since 1993, very little research had been conducted about the rates of unsuspected ovarian cancer in morcellator patients, according to the study. Lawyers handling morcellator lawsuits provide timely morcellator lawsuit news updates and comprehensive morcellator claims information at the Morcellator Cancer Lawsuit Center website.
The study, which examined a large insurance database, found that 27 in 10,000 women had existing and unsuspected uterine sarcoma (cancer) at the time of morcellation. This translates to roughly 1 in 350 women having undetected cancer at the time of morcellator surgery. The researchers, led by Jason D. Wright, M.D., of the Columbia University College of Physicians and Surgeons, New York, chose to conduct this study because, although morcellator surgery has been in practice for two decades, this particular figure was not known. Recent concern over the link between morcellator surgery and the advancement of existing cancer prompted the study.**
Recent research indicated that the prevalence of uterine cancer in women undergoing morcellator surgery was much higher than previously thought – perhaps ten times higher, according to the Lancet.*** It has been long known that through morcellation, or mincing, of cancerous tissues, a contained form of cancer can be advanced or upstaged to a serious and potentially fatal disease. The Lancet article asserts that morcellator surgery has been adopted cavalierly with too little research into its risks, based on an assumption that new technology represents an improvement over old methods: "Medical devices do not have to undergo such rigorous testing and safety profiling before they are propelled into everyday clinical practice by the manufacturers' extensive, unregulated marketing. The attitude prevails that new and expensive equipment must be an advance. New techniques and devices are widely adopted, and often only regulated when evidence of harm accumulates. This situation is unacceptable."
The link between morcellator surgery and cancer advancement has become public knowledge in part because of a high profile case in which a Harvard anesthesiologist who had a hysterectomy using a morcellator device was diagnosed with Stage IV leiomyosarcoma shortly after her surgery.***
Others having experienced similar circumstances have filed morcellator lawsuits in U.S. District Courts throughout the country. One such lawsuit was is in process in U.S. District Court in California's Northern District**** The plaintiffs, Sarah Salem-Robinson and her husband Alan A. Robinson, are suing Richard Wolf Medical Instruments Corporation. Ms. Salem-Robinson underwent a morcellator hysterectomy in May of 2012. Prior to her surgery, Ms. Salem-Robinson was told by her doctors that fibroids in her uterus were not cancerous. However, according to court documents, she was diagnosed with cancer just two weeks after the procedure, on May 30, 2012.
The Onder Law Firm, nationally-renowned for its superior work in family and product liability law, provides comprehensive information on morcellator surgery lawsuits at MorcellatorCancerLawsuitCenter.com. The morcellator attorneys offer no-cost, confidential case review to women and the family members of women who were diagnosed with cancer following morcellator surgery. Attorneys reviewing morcellator claims believe women who were diagnosed with cancer following hysterectomy or myomectomy surgery may be entitled to real compensation for the harm and damages they sustained.
The Onder Law Firm welcomes morcellator lawsuit inquiries from law firms in regards to handling them or working as co-counsel.
About The Onder Law Firm
Onder, Shelton, O'Leary & Peterson, LLC is a St. Louis based personal injury law firm handling serious injury and death claims across the country. Its mission is the pursuit of justice, no matter how complex the case or strenuous the effort. The pharmaceutical and medical device litigators at The Onder Law Firm have represented thousands of Americans in lawsuits against multinational conglomerates from products liability for manufacture of defective or dangerous products to deceptive advertising practices. Other firms throughout the nation often seek its experience and expertise on complex litigation. It is also a recognized leader in products liability cases such as window blind cord strangulation. The Onder Law Firm offers information from morcellator surgery lawyers at http://www.morcellatorcancerlawsuitcenter.com.
*jama.jamanetwork.com/article.aspx?articleid=1890400 July 22, 2014
**media.jamanetwork.com/news-item/study-examines-presence-of-uterine-cancers-among-women-at-the-time-of-hysterectomy-using-morcellation/ July 22, 2014
***thelancet.com/journals/lanonc/article/PIIS1470-2045%2814%2970042-7/fulltext Volume 15, Issue 2 Feb. 2014
**** Case 5:14-cv-02209-EJD - Salem-Robinson et al v. Richard Wolf Medical Instruments Corporation, May 13, 2014