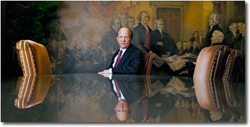 St. Louis, MO (PRWEB) March 05, 2015
A new morcellator lawsuit has recently been filed in Michigan, according to attorneys handling morcellator surgery claims.* The plaintiff alleges that she developed advanced-stage bone and breast cancer "as a direct and proximate result of the defective and unreasonably dangerous surgical instrument, the Rotocut G1 power morcellator," according to court documents, and has demanded a jury trial.
In this case, a power morcellator device was used to treat the plaintiff's uterine fibroids, according to court documents. Power morcellators are used for a range of laparoscopic surgeries, removing internal tissue by shredding and mincing it, then removing it through miniature incisions, according to court documents.
This morcellator lawsuit alleges that the medical device maker promoted the device as a safe means to treat uterine fibroids, though the company should have known of the potential to spread cancer, according to court documents. The lawsuit cites an FDA warning from November 2014** which warned that using a power morcellator in women with undetected uterine cancer poses a danger of spreading the cancer through the abdomen and pelvic, "significantly worsening the patient's long term survival," according to court documents.
The plaintiff in the Michigan lawsuit alleges that her diagnosis of Stage 4, metastasized bone and breast cancer can be traced to her power morcellator surgery, from which she alleges cancerous tissue was spread throughout her body, according to court documents. Furthermore the lawsuit alleges that safe alternatives to power morcellator surgery were available that would not have caused the spreading of cancer, according to court documents. She says she would not have chosen to have morcellator surgery to remove her uterine fibroids had she been made aware of the risk of having cancer cells spread and the disease advanced, according to court documents.
The counts made against the defendants, Karl Storz Endoscopy et al, include negligence, design defect, manufacturing defect, failure to warn, strict liability, breach of warranty, and fraudulent misrepresentation, according to court documents.
"The claims and allegations in this morcellator lawsuit echo other cancer claims filed around the country," says Jim Onder of the Onder Law Firm. "The individuals are saying that they developed an advanced stage and often fatal form of cancer, as a result of the failure of companies to warn medical professionals and consumers of the associated risks of the procedure, according to the court documents. We believe that persons who have been diagnosed with advanced-stage cancer following a uterine power morcellator surgery may entitled to damages."
The Onder Law Firm, known nationwide for its superior work in family and product liability law, provides comprehensive information on morcellator surgery lawsuits at MorcellatorCancerLawsuitCenter.com. The morcellator attorneys offer no-cost, confidential case review to women and the family members of women who were diagnosed with cancer following morcellator surgery. Attorneys reviewing morcellator claims believe women who were diagnosed with cancer following hysterectomy or myomectomy surgery may be entitled to real compensation for the harm and damages they sustained.
The Onder Law Firm welcomes morcellator lawsuit inquiries from law firms in regards to handling them or working as co-counsel.
About The Onder Law Firm
Onder, Shelton, O'Leary & Peterson, LLC is a St. Louis based personal injury law firm handling serious injury and death claims across the country. Its mission is the pursuit of justice, no matter how complex the case or strenuous the effort. The pharmaceutical and medical device litigators at The Onder Law Firm have represented thousands of Americans in lawsuits against multinational conglomerates from products liability for manufacture of defective or dangerous products to deceptive advertising practices. Other firms throughout the nation often seek its experience and expertise on complex litigation. It is also a recognized leader in products liability cases such as window blind cord strangulation. The Onder Law Firm offers information from morcellator surgery lawyers at http://www.MorcellatorCancerLawsuitCenter.com.
*Denise Whitfield v. Karl Storz, Case 2:15-cv-10352, U.S. District Court in the Eastern District of Michigan, filed 1/26/15
**fda.gov/MedicalDevices/Safety/AlertsandNotices/ucm424443.htm