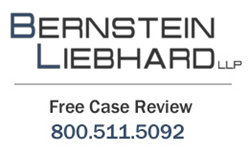 It should be noted that federal regulators have specifically discouraged doctors from using uterine morcellation in patients who require hysterectomies or fibroid removals because of the risk that these device can promote the spread of undetected uterine.
New York, New York (PRWEB) May 24, 2014
As hysterectomy cancer lawsuits (http://www.morcellatorlawsuit2015.com/) continue to mount against the manufacturers of power morcellators, Bernstein Liebhard LLP notes that two physician groups are defending the use of these devices in uterine surgeries. According to a report from the Philadelphia Inquirer, both the American College of Obstetricians and Gynecologists, and the AAGL (American Association of Gynecological Laparoscopists) maintain that power morcellation still has a valuable role in patient care. Among other things, both groups advocate for the creation of surgical registries to gather more data about power morcellation, and stress that doctors should warn women considering such procedures about its potential risks.*
"It should be noted that federal regulators have specifically discouraged doctors from using uterine morcellation in patients who require hysterectomies or fibroid removals because of the risk that these device can promote the spread of undetected uterine cancers," says Bernstein Liebhard LLP, a nationwide law firm representing victims of defective drugs and medical devices. The Firm is now offering hysterectomy cancer lawsuit reviews to women who suffered uterine sarcoma or other cancers allegedly spread by morcellation.
Morcellator Cancer Lawsuits
According to an alert issued by the U.S. Food & Drug Administration (FDA) on April 17th, roughly 1 in 350 women in need of fibroid removal have undiagnosed uterine sarcoma within their fibroids. Power morcellators, which are used to grind down tissue so that it can be removed through a small abdominal incision, can disseminate cancer cells present in the uterus throughout the peritoneal cavity. As such, the FDA discouraged doctors from using the devices in gynecological surgery. The agency also noted that it will convene an advisory panel meeting to obtain further guidance on the matter.
Court documents indicate that a number of power morcellator lawsuits are already pending in U.S. courts. These include a case filed May 1, 2014, in U.S. District Court, Western District of New York on behalf of a woman who blames the use of a power morcellator for the spread of leiomyosarcoma in her abdominal cavity. (Case 6:14-cv-06218) In February, the husband of a 53-year-old woman who died from uterine cancer less than a year after she underwent power morcellation filed a hysterectomy cancer lawsuit in the U.S. District Court, Eastern District of Pennsylvania. (Case No. 14 5557) Most recently, a case was filed in the U.S. District Court, Northern District of California on May 13, 2014 that claims the use of a Wolf Power Morcellator promoted the dissemination of uterine cancer cells throughout a woman's peritoneal cavity. (Case No. Case5:14-cv-02209-PSG)
The recent FDA action prompted Johnson & Johnson's Ethicon unit to announce that it would suspend sales of its Gynecare Morcellex, Morcellex Sigma Tissue Morcellator System, and Gynecare X-Tract Tissue Morcellator products pending further guidance from the FDA.** A number of hospitals, including the Cleveland Clinic, have also moved to bar or limit the technique until the FDA completes its review.***
Women who allegedly experienced the spread of uterine cancer due to a power morcellator may be entitled to compensation. To learn more about filing a hysterectomy cancer lawsuit, please visit Bernstein Liebhard LLP's website. Free case reviews can also be obtained by calling 800-511-5092.
*philly.com/2014-05-22/news/50005070_1_uterine-fibroids-power-morcellation, Philadelphia Inquirer, May 22, 2014
**reuters.com/article/2014/04/30/us-johnson-johnson-device-idUSKBN0DG06G20140430, Reuters, April 30, 2014
***cleveland.com/healthfit/index.ssf/2014/04/surgical_tool_for_hysterectomy.html, Cleveland Plain Dealer, April 28, 2014
About Bernstein Liebhard LLP
Bernstein Liebhard LLP is a New York-based law firm exclusively representing injured persons in complex individual and class action lawsuits nationwide since 1993. As a national law firm, Bernstein Liebhard LLP possesses all of the legal and financial resources required to successfully challenge billion dollar pharmaceutical and medical device companies. As a result, our attorneys and legal staff have been able to recover more than $3 billion on behalf of our clients. The Firm has been named by The National Law Journal to the Plaintiffs' Hot List, recognizing the top plaintiffs firms in the country, for the past 12 consecutive years. Bernstein Liebhard LLP is the only firm in the country to be named to this prestigious list every year since it was first published in 2003.
Bernstein Liebhard LLP represents the victims of defective drugs and medical devices on a contingency-fee basis, and our clients are never expected to pay attorneys fees unless their case results in a successful recovery on their behalf. New York State's contingency fee cap rules generally limit those fees to 33 1/3% of the total recovery. As a result, the Firm's fees can be significantly lower than those assessed by attorneys in other states, which depending on the law may amount to as much as 40% or more of a plaintiff's recovery.
Bernstein Liebhard LLP
10 East 40th Street
New York, New York 10016
800-511-5092
ATTORNEY ADVERTISING. © 2014 Bernstein Liebhard LLP. The law firm responsible for this advertisement is Bernstein Liebhard LLP, 10 East 40th Street, New York, New York 10016, 800-511-5092. Prior results do not guarantee or predict a similar outcome with respect to any future matter.
Contact Information:
Felecia L. Stern, Esq.
Bernstein Liebhard LLP
info(at)consumerinjurylawyers(dot)com
http://www.morcellatorlawsuit2015.com/
https://plus.google.com/115936073311125306742?rel=author