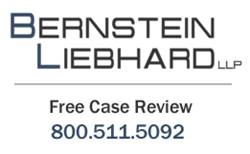 Our Firm is evaluating claims on behalf of a number of women who allegedly experienced the spread of uterine sarcoma and other cancers due to power morcellators.
New York, New York (PRWEB) July 26, 2014
As morcellator lawsuits (http://www.morcellatorlawsuit2015.com/) continue to be filed in U.S. courts, Bernstein Liebhard LLP notes that more doctors and patients are calling on federal health regulators to ban uterine morcellation. According to a report from The Chicago Tribune, those individuals include a 46-year-old mother of four from California who was diagnosed with a rare and aggressive form of uterine cancer called leiomyosarcoma just 10 days after undergoing a laparoscopic hysterectomy where a power morcellator was used. The progression of her disease allegedly accelerated after the morcellator spread cancer cells into her abdomen.*
Dr. Robert Lamparter, a Pennsylvania pathologist, told the Chicago Tribune Review that he has seen women allegedly harmed by uterine morcellation for over eight years. He has written to the U.S. Food & Drug Administration (FDA) asking that it revoke clearance for power morcellators.
"Our Firm is evaluating claims on behalf of a number of women who allegedly experienced the spread of uterine sarcoma and other cancers due to power morcellators. Many of their experiences echo those detailed by this report," says Bernstein Liebhard LLP, a nationwide law firm representing victims of defective drugs and medical devices. The Firm is now evaluating potential legal claims on behalf of women who may have experienced the spread of undiagnosed cancers due to uterine morcellation.
Morcellator Lawsuits
In April, the FDA issued an alert discouraging doctors from using power morcellators to shred tissue during minimally-invasive gynecological surgeries, due to the risk that the devices can spread undetected cancer cells into a woman's peritoneal cavity. This can result in an upstaging of the cancer and greatly reducing a patient's chances of long-term survival. At the time, the FDA estimated that 1 in 350 women with uterine fibroids actually have undetected uterine sarcoma cells within that tissue.
Last month, the FDA's Obstetrics and Gynecology Devices Panel met for two-days to discuss the risks associated with uterine morcellation. According to a report from The Boston Globe, the panelists heard emotional testimony from cancer victims and their families, many of whom said they were never told that a power morcellator had the potential to spread uterine cancers.**
Even before the FDA acted, court records indicate that morcellator lawsuits were being filed in U.S. courts on behalf of women who allegedly experienced the spread of undetected uterine cancer because of power morcellation. In February, for example, the husband of a 53-year-old woman who died from uterine cancer less than a year after she underwent power morcellation filed a morcellator lawsuit in the U.S. District Court, Eastern District of Pennsylvania. (Case No. 14 5557) On May 1, 2014 a similar complaint was filed in the U.S. District Court, Western District of New York on behalf of a woman who blames uterine morcellation for the spread of leiomyosarcoma in her abdominal cavity. (Case 6:14-cv-06218) That case was followed by the May 13th filing of a complaint in U.S. District Court, Northern District of California, which alleges the use of a Wolf Power Morcellator promoted the dissemination of uterine cancer cells throughout a woman's peritoneal cavity. (Case No. Case5:14-cv-02209-PSG)
Patients whose cancers may have been spread via uterine morcellation could be entitled to file a morcellator lawsuit against the manufacturer of the device used in their surgery. To learn more about the risks potentially associated with power morcellators, please visit Bernstein Liebhard LLP's website. To obtain a free legal review, please call 800-511-5092.
*rep-am.com/articles/2014/07/25/lifestyle/health/818164.txt, Chicago Tribune, July 25, 2014
**bostonglobe.com/lifestyle/health-wellness/2014/07/11/agreement-reached-whether-fda-should-ban-hysterectomy-cutting-tool/EkXZaFAUUnT5HZ7DBQvWbM/story.html, Boston Globe, July 11, 2014
About Bernstein Liebhard LLP
Bernstein Liebhard LLP is a New York-based law firm exclusively representing injured persons in complex individual and class action lawsuits nationwide since 1993. As a national law firm, Bernstein Liebhard LLP possesses all of the legal and financial resources required to successfully challenge billion dollar pharmaceutical and medical device companies. As a result, our attorneys and legal staff have been able to recover more than $3 billion on behalf of our clients. The Firm has been named by The National Law Journal to the Plaintiffs' Hot List, recognizing the top plaintiffs firms in the country, for the past 12 consecutive years. Bernstein Liebhard LLP is the only firm in the country to be named to this prestigious list every year since it was first published in 2003.
Bernstein Liebhard LLP
10 East 40th Street
New York, New York 10016
800-511-5092
ATTORNEY ADVERTISING. © 2014 Bernstein Liebhard LLP. The law firm responsible for this advertisement is Bernstein Liebhard LLP, 10 East 40th Street, New York, New York 10016, 800-511-5092. Prior results do not guarantee or predict a similar outcome with respect to any future matter.
Contact Information:
Felecia L. Stern, Esq.
Bernstein Liebhard LLP
info(at)consumerinjurylawyers(dot)com
http://www.morcellatorlawsuit2015.com/
https://plus.google.com/115936073311125306742?rel=author