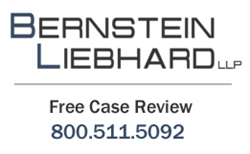 "Dr. Noorchashm's recent statements reflect similar concerns raised by the U.S. Food and Drug Administration (FDA) that power morcellators may have the potential to upstage certain uterine cancers.
New York, New York (PRWEB) January 02, 2015
A Boston doctor whose efforts to ban power morcellator (http://www.morcellatorlawsuit2015.com) surgery in the U.S. have garnered national attention over the past year is again speaking out, following recent regulatory action aimed at mitigating the risk that uterine morcellation will result in the spread of undetected gynecological cancers, Bernstein Liebhard LLP reports.
Dr. Hooman Noorchashm, whose Change.org petition has helped spiral public awareness on the controversy surrounding uterine morcellation, was quoted in an article recently posted on the Philadelphia Inquirer's website that stressed the dangers of doctors assuming a woman's fibroids are cancer-free before opting to use the device in certain gynecologic procedures. In turn, this may lead to the spread of uterine sarcoma and other cancers, he said in an article posted on December 30th, 2014.*
"Dr. Noorchashm's recent statements reflect similar concerns raised by the U.S. Food and Drug Administration (FDA) that power morcellators may have the potential to upstage certain uterine cancers. We are currently investigating claims made by women who were allegedly harmed by these devices, and are pleased to see this issue continues to be attracting the scrutiny it deserves," says Bernstein Liebhard LLP, a nationwide law firm representing victims of defective drugs and medical devices. The Firm is currently offering free and confidential case evaluations to women whose uterine cancer allegedly spread because of a power morcellator.
Power Morcellators and Cancer
Dr. Noorchashm began working for a uterine morcellation ban in late 2013, after his wife, Dr. Amy Reed, was diagnosed with Stage 4 uterine cancer shortly after she underwent a morcellator hysterectomy to remove fibroids. ** According to Bernstein Liebhard, LLP, his work has been instrumental in bringing this issue to the attention of the public. For example, as of January 2nd, 2015, a Change.org petition he launched now includes some 87,030 signatures from supporters who favor of banning the use of power morcellators in gynecoligical sugeries.
Much of the concerns Dr. Noorchashm's expressed to the Philadelphia Inquirer echo those put forth by the U.S. Food and Drug Administration (FDA) less than two months ago, when the agency publicly advised doctors against performing uterine morcellation surgeries in the majority of women having fibroids removed. The public notice on November 24, 2014 also asked manufacturers of this surgical tool to add black box warnings—the FDA's strongest safety warning—to the labeling on their products. Yet despite the significant safety issues raised by both Dr. Noorchasm and the agency, the FDA has decided against banning uterine morcellation at this time.
Women who were diagnosed with uterine sarcoma or another cancer after a power morcellator-aided hysterectomy or fibroid removal surgery may be eligible to receive compensation for a myriad of injury-related damages. Learn more about the risks of uterine morcellation when you visit Bernstein Liebhard LLP's website. To obtain a free consultation, please call 800-511-5092.
*philly.com/philly/blogs/healthcare/The-cost-of-assumption-in-medicine.html#disqus_thread, The Philadelphia Inquirer, December 30, 2014.
**usatoday.com/story/news/nation/2014/11/24/fda-warning-power-morcellator-fibroids-cancer/19491165/, USAToday, November 26, 2014
***change.org/p/women-s-health-alert-deadly-cancers-of-the-uterus-spread-by-gynecologists-stop-morcellating-the-uterus-in-minimally-invasive-and-robot-assisted-hysterectomy, Change.org, December 26, 2014
About Bernstein Liebhard LLP
Bernstein Liebhard LLP is a New York-based law firm exclusively representing injured persons in complex individual and class action lawsuits nationwide since 1993. As a national law firm, Bernstein Liebhard LLP possesses all of the legal and financial resources required to successfully challenge billion dollar pharmaceutical and medical device companies. As a result, our attorneys and legal staff have been able to recover more than $3 billion on behalf of our clients. The Firm has been named by The National Law Journal to the Plaintiffs' Hot List, recognizing the top plaintiffs firms in the country, for the past 12 consecutive years. Bernstein Liebhard LLP is the only firm in the country to be named to this prestigious list every year since it was first published in 2003.
Bernstein Liebhard LLP
10 East 40th Street
New York, New York 10016
800-511-5092
ATTORNEY ADVERTISING. © 2015 Bernstein Liebhard LLP. The law firm responsible for this advertisement is Bernstein Liebhard LLP, 10 East 40th Street, New York, New York 10016, 800-511-5092. Prior results do not guarantee or predict a similar outcome with respect to any future matter.
Contact Information:
Felecia L. Stern, Esq.
Bernstein Liebhard LLP
info(at)consumerinjurylawyers(dot)com
http://www.morcellatorlawsuit2015.com
https://plus.google.com/115936073311125306742?rel=author