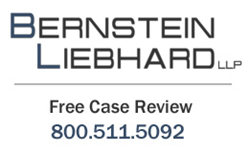 This publication of this report follows two warnings from U.S. health regulators regarding the potential for power morcellators to spread and upstage undiagnosed uterine cancers.
New York, New York (PRWEB) February 09, 2015
The power morcellator attorneys (http://www.morcellatorlawsuit2015.com) at Bernstein Liebhard LLP note that the authors of a new report assessing the potential for the devices to spread undetected uterine cancers during hysterectomies and fibroid removal procedures have called for the formulation of new guidelines to better assess this risk prior to surgery. Writing in the February 5th issue of the American Journal of Obstetric and Gynecology, researchers from the Irvine Medical Center at the University of California assert that preoperative evaluation should be performed to determine if a woman is a good candidate for uterine morcellation. "If preoperative evaluation raises suspicion for malignancy, morcellation clearly should be avoided," they conclude.*
"This publication of this report follows two warnings from U.S. health regulators regarding the potential for power morcellators to spread and upstage undiagnosed uterine cancers. The suggestion for preoperative guidelines to assess this risk would appear to contradict the FDA's caution that there is no reliable way to screen for cancer prior surgery," says Bernstein Liebhard LLP, a nationwide law firm representing victims of defective drugs and medical devices.** The Firm is providing free legal consultations to women who were diagnosed with advanced uterine cancers following uterine morcellation.
Power Morcellators and Cancer
Power morcellators are used to shred tissue during minimally invasive hysterectomies and fibroid removal surgeries so that it can be removed from the body via a small abdominal incision. In April 2014, the U.S. Food & Drug Administration (FDA) publically discouraged doctors from using the devices in gynecological surgeries because of their potential to spread and upstage undiagnosed malignancies present in fibroids at the time of surgery. According to the agency, this occurrence can greatly reduce a woman's likelihood for long-term survival.**
Then in November 2014, the FDA issued a second alert warning against the use of power morcellators in the majority of women who require hysterectomy and fibroid removals because of their cancer risk. The agency also asked morcellator manufacturers to add a new black box warning – the strongest possible safety notice – regarding this life-threatening complication to their labels. Among other things, the FDA noted that the prevalence of unsuspected uterine sarcoma in patients undergoing hysterectomy or fibroid removal surgery is 1 in 352, while the prevalence of unsuspected uterine leiomyosarcoma is 1 in 498. Both of these estimates are higher than the clinical community previously understood, the agency said.
Victims of uterine sarcoma or other cancers allegedly spread via power morcellation may be entitled to compensation for their injury-related damages. To learn more about filing a morcellator lawsuit, please visit Bernstein Liebhard LLP's website. To obtain a free legal review, please call 800-511-5092.
*ajog.org/article/S0002-9378%2815%2900013-7/abstract, AJOG, February 5, 2015
**fda.gov/medicaldevices/safety/alertsandnotices/ucm393576.htm, FDA, April 17, 2014
About Bernstein Liebhard LLP
Bernstein Liebhard LLP is a New York-based law firm exclusively representing injured persons in complex individual and class action lawsuits nationwide since 1993. As a national law firm, Bernstein Liebhard LLP possesses all of the legal and financial resources required to successfully challenge billion dollar pharmaceutical and medical device companies. As a result, our attorneys and legal staff have been able to recover more than $3 billion on behalf of our clients. The Firm has been named by The National Law Journal to the Plaintiffs' Hot List, recognizing the top plaintiffs firms in the country, for the past 12 consecutive years. Bernstein Liebhard LLP is the only firm in the country to be named to this prestigious list every year since it was first published in 2003.
Bernstein Liebhard LLP
10 East 40th Street
New York, New York 10016
800-511-5092
ATTORNEY ADVERTISING. © 2015 Bernstein Liebhard LLP. The law firm responsible for this advertisement is Bernstein Liebhard LLP, 10 East 40th Street, New York, New York 10016, 800-511-5092. Prior results do not guarantee or predict a similar outcome with respect to any future matter.
Contact Information:
Felecia L. Stern, Esq.
Bernstein Liebhard LLP
info(at)consumerinjurylawyers(dot)com
http://www.morcellatorlawsuit2015.com
https://plus.google.com/115936073311125306742?rel=author