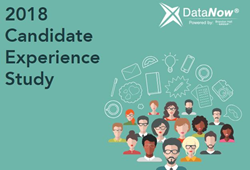 People speak of a war on talent, and what I tell our clients is that the talent is winning
DELRAY BEACH, Fla. (PRWEB) August 02, 2018
About three-quarters of organizations say that candidate experience is essential or critical to their business, according to Brandon Hall Group's 2018 Candidate Experience Study. However, only 48% of organizations said their candidate experience – the collective result of all interactions with job candidates during the recruitment marketing and hiring process – is effective or very effective.
By a large margin, the most serious challenges to managing candidate experience are lengthy time-to-hire and being able to move quickly enough to secure top talent before the competition, the survey revealed.
"Organizations must pay attention to candidate experience because they are losing, on average, nearly two in five candidates from the time they start the online application process through the job offer," said Daria Friedman, Brandon Hall Group's Principal Analyst, Talent Acquisition. "That data does not even include those candidates who visit the career site and fail to complete the application. Having an exceptional candidate experience improves organizations' ability to attract and hire quality talent."
There are many steps organizations can take to improve candidate experience. Here are those that organizations said they are most ready to take within the next 18 months:

29% said they would be ready to improve the pre-boarding experience (activities from the offer letter to the first day of work).
27% said they would be ready to improve career site content.
27% said they would be ready to improve the interviewing experience.
26% said they could improve or adjust employer brand messaging based on their Employee Value Proposition.
25% said they would be ready to improve candidate communications of all types and for all purposes.
And 25% said they would be ready to improve the assessment experience.
"People speak of a war on talent, and what I tell our clients is that the talent is winning," Brandon Hall Group CEO Mike Cooke said. "There are so many available solutions for improving the candidate experience; organizations really need to re-evaluate their hiring practices. But first, they must recognize the problem and want to do something about it."
Only 6% of organizations said they are ready to improve job candidates' experience related to securing a job offer or being rejected for a job. And only 14 percent said they are ready to provide candidates better feedback about their progress during the hiring process.
Download a complimentary snapshot of the Candidate Experience Survey results http://go.brandonhall.com/DataNow_Snapshot_cadidate_experience_PR_2018 .
The survey, conducted April-July 2018, received 348 valid responses; 46% came from organizations with more than 5,000 employees; 63% from the U.S.
About Brandon Hall Group Inc.
Brandon Hall Group is a HCM research and advisory services firm that provides insights around key performance areas, including Learning and Development, Talent Management, Leadership Development, Talent Acquisition and HR/Workforce Management.
With more than 10,000 clients globally and 25 years of delivering world-class research and advisory services, Brandon Hall Group is focused on developing research that drives performance in emerging and large organizations, and provides strategic insights for executives and practitioners responsible for growth and business results.
At the core of our offerings is a Membership Program that combines research, benchmarking and unlimited access to data and analysts. The Membership Program offers insights and best practices to enable executives and practitioners to make the right decisions about people, processes, and systems, coalesced with analyst advisory services which aim to put the research into action in a way that is practical and efficient. (http://www.brandonhall.com)
For additional information about our organization please contact Mike Cooke via mike.cooke(at)brandonhall(dot)com or via phone at (561) 306-3576.