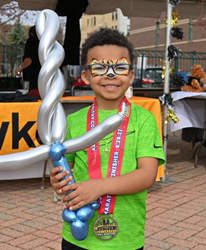 Expect more fun this year. We have a bigger and better weekend planned with the return of the full marathon, and new attractions for the whole family
KALAMAZOO, Mich. (PRWEB) February 08, 2023
The Zeigler Kalamazoo Marathon invites the community to its upcoming event weekend from Saturday, April 22 to Sunday, April 23, 2023. More than a run, the event promises to be an all-out celebration the entire community can enjoy.
"Expect more fun this year! We have a bigger and better weekend planned with the return of the full marathon, and new attractions for the whole family," said Aaron Zeigler, CEO & owner of Zeigler Auto Group, the Marathon's main sponsor.
Kicking off the 2023 event weekend is the free PNC Kids' 1K starting at 9:00 a.m. on Saturday, April 22. Also that Saturday, the Ascension Borgess Health Expo featuring different activities for participants to prepare for the races the following day– along with official packet pickup.
However, you don't have to be a runner or walker to enjoy the weekend's exciting lineup. Everyone is encouraged to take a stroll downtown on Saturday and take part in a family-friendly and fun atmosphere with kids activities, food trucks, a car show, specialty vendors, live music, and more.
Then Sunday, there will be plenty of areas to celebrate and cheer on runners along the route, finish line, and during award presentations. Community members can also volunteer for the event, or simply enjoy all the fun the Zeigler Kalamazoo Marathon has to offer.
For the first time ever, the marathon will include a run through Western Michigan University's Waldo football stadium, among other iconic landmarks. The 10K and 5K walk/run will also continue to feature popular mile marker stops such as the Bacon Station, the Gummy Bear Forest, the Pickle Pit and more.
"We feel so fortunate that so many of our partners, from Downtown Kalamazoo and the greater Kalamazoo area, share our vision for Driving a Healthy Community! With April 22nd and 23rd kicking off spring, getting outside and having fun at a community celebration is something anyone can be a part of and all will enjoy!" said Carrie Drake, Zeigler Kalamazoo Marathon race director.
The Stryker Experience is also set to return at the finish line, this family-friendly celebration is free and open to the entire community. It will include a kids area, DJ, refreshments from a variety of food vendors; and adult beverages courtesy of sponsor Imperial Beverage and Short's Brewing.
A special 10% discount is available to everyone who registers now through Friday, February 17, 2023 with code ZKZMFUN23.
Saturday, April 22, 2023

Sunday, April 22,2023

About Zeigler Kalamazoo Marathon
The Zeigler Kalamazoo Marathon is a 501(c)(3) nonprofit that attracts participants from all over the U.S. by "Driving a Healthy Community" in the Greater Kalamazoo area and beyond. The annual community event includes a Marathon, Half Marathon, 10K, 5K, 5K Walk, and 1K Kids Run; as well as a health expo.
Formerly known as the Borgess Run for the Health of It!, the event was renamed the Zeigler Kalamazoo Marathon in 2022 after Zeigler Auto Group became its title sponsor. 2023 will mark the event's 42nd anniversary and the return of the full marathon, after its omission in 2022.
All races start and finish at the Arcadia Creek Festival Site and run through Downtown Kalamazoo, with the full marathon, half marathon and 10K passing through Western Michigan University's Waldo Stadium. The marathon course also includes the Portage Creek Bicentennial Trail, Stryker campus, Kalamazoo Air Zoo Aerospace & Science Museum, Milham Park, Milwood Neighborhood, Edison Neighborhood, and Upjohn Park.
Known for its highly-spirited excitement zones and water station, 5K participants enjoy Gummy Bear Forest; and Half Marathon and Marathon runners experience the infamous Bacon Station. All participants and spectators can enter the Stryker Experience in Downtown Kalamazoo.
About Zeigler Auto Group
Zeigler Automotive Group is one of the largest privately-owned dealer groups in the U.S. with 78 franchises across 35 locations in Wisconsin, Illinois, Indiana, and Michigan. Vehicle brands represented include all of the domestic and the majority of the imported manufacturers.
Besides its extensive automotive portfolio, the organization owns and operates Zeigler Motorsports, an 85,000-square-foot motorsports dealership and action park, offering 19 different powersports brands, plus its own onsite restaurant: Trak Houz Bar & Grill. Additionally, Zeigler Motorsports houses the Elevate Leadership & Team Building Academy, an executive training company.
The Kalamazoo-based dealer group also owns and operates Zeigler Pre-Owned of Chicago, three Byrider franchises, three finance companies, several insurance firms, and a leasing firm.
Founded in 1975, the organization employs over 2,300 people, ranking among the top 1% of automotive dealers in the nation with estimated annual sales of $2.2 billion for 2022. The family-owned and operated company is well known for its commitment to both customer service and employee satisfaction. Zeigler is regularly recognized as one of the Best and Brightest Companies to Work for in the Nation, also earning similar accolades in Wisconsin, Chicago, and Michigan. Zeigler Auto Group was also listed at number 37 in Glassdoor's 100 Best Companies to Work for 2023.