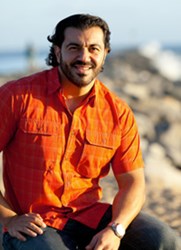 Life is so much easier when you have a predictable marketing system that gets you all the clients you need and want. - Bedros Keuilian
Chino Hills, CA (PRWEB) August 05, 2013
"Most of the trainers I talk to are doing all the wrong things and ultimately wasting a bunch of money on dead end marketing," explains Bedros Keuilian, founder of the popular fitness marketing blog PTPower.com read by thousands of personal trainers worldwide. Trying to solve this problem of how to get more personal training clients on a budget is how Keuilian came up with System 9.
He says that it is important for personal trainers to have a reliable marketing system because the most effective ones save time, money, and works consistently to attract new clients. "Life is so much better when you have a predictable marketing system that gets you all the clients you need and want."
Over the past few years Keuilian has developed, tested, and tweaked his best client getting, fitness marketing strategies. System 9 includes some of the most unexpected tactics that work to generate leads for any fitness business professional, such as The Client Referral Generator, The Human Billboard System, and The Seminar Tsunami just to name a few.
"Often times the best systems for attracting clients are actually free or low cost. However, most new entrepreneurs still use traditional high-cost/low-return marketing methods like newspaper and print publication and even direct mail." Keuilian adds, "While these tactics work, there are plenty of low- and no-cost personal training business marketing solutions available."
The comprehensive marketing system, System 9, provides an in depth look at nine of Keuilian's most successful fitness marketing tactics and covers important topics like how to build strategic relationships with local businesses, free ways to market any fitness business, and how to sell personal training by getting clients to refer their friends and family.
System 9 is out now and available at http://www.100newclients.com/System9/.
About Bedros Keuilian
Bedros Keuilian is the founder of the fitness marketing blog, PTPower.com, and president of the fitness boot camp franchise, Fit Body Boot Camp, is a long time fitness business coach and personal training sales expert who has helped thousands of personal trainers worldwide grow their personal training businesses. To find out more about Bedros Keuilian, his blog PTPower.com, or Fit Body Boot Camp, please visit http://www.ptpower.com, and http://www.myfitbodybootcamp.com