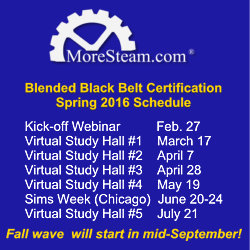 Powell, Ohio (PRWEB) December 07, 2015
MoreSteam.com is currently accepting registrations for the Spring Blended Black Belt certification program. The first portion of the program is comprised of a 21-week session in which students complete MoreSteam's online Lean Six Sigma Black Belt course, participate in virtual group study halls, and attend a one-week simulation-based workshop. Students work on their own schedules during the second part of the program to complete two Lean Six Sigma projects and the comprehensive Black Belt exam. Candidates can complete certification within 18 months of enrollment.
No pre-requisite Lean Six Sigma training is required for enrollment. The MoreSteam Black Belt curriculum includes -as a subset- all of the Lean Six Sigma Green Belt course content. For students who have already completed Green Belt training, those lessons may be reviewed or skipped. This course requires students to use statistical software. Video tutorials are available within the course to help students get up to speed with either EngineRoom, Minitab, or JMP.
In addition to the 145 hours of coursework in the Lean Six Sigma Black Belt eLearning, the Blended Black Belt program also includes additional instructor-led training and coaching, including:

Kick-off webinar - February 27th
10 hours of virtual study halls led by a Master Black Belt instructor held at 3-4 week intervals
Simulation-based workshop - The spring workshop will be held in Chicago June 20-24th
One-on-one project coaching scheduled at your convenience
Black Belt course reference manual
Visit the MoreSteam.com website to learn more about the Blended Lean Six Sigma Black Belt training and certification program.
About MoreSteam.com:
MoreSteam.com is the leading global provider of online Lean Six Sigma training and Blended Learning technology serving over 50% of the Fortune 500 with a full suite of Lean Six Sigma e-Learning courses, data analysis software, discrete event simulation software, online project tracking software, online testing tools, and project simulations and games. MoreSteam.com has trained 500,000+ individuals since the year 2000. MoreSteam's mission is to enable people to advance the performance of their organizations by delivering powerful tools for process improvement to the widest possible audience at the lowest price available.