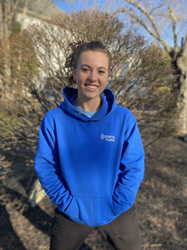 Now knowing [the impact on the industry], it is still crazy to wrap my head around, but I think it is a great way to prove the diversity in this industry and a great way to start getting more women involved. I feel like there is still a lot more ground to break, Morgan said.
RICHMOND, Va. (PRWEB) March 21, 2023
High school senior, Morgan Foote, lives a busy life - when she's not navigating her way through high school at Central Bucks West High or leading her school's marching band drumline as center snare, you can find her working with her father's irrigation franchise - Conserva Irrigation of Delaware Valley.
Specifically, you'll see Morgan in the role of a technician - working on install projects, changing broken sprinkler heads, and helping out her father. On the job site, Morgan looks like just another member of the crew - however, she's the youngest female to ever pass the Certified Irrigation Technician exam, an achievement that's being celebrated by all at Conserva.
Purchased in 2020, Morgan's father Bob let her come to work with him when she was 16 as a summer job. Morgan originally joined the fold by helping her dad with estimate appointments, mainly laying out property plans. She eventually received training on connecting sprinkler heads and general labor on installation jobs while out with her dad and his crew.
As she got more comfortable on the job sites, she realized the amount of opportunities that were open to her when looking at a technician role. "Becoming a technician was a goal I wanted to work towards knowing that it would be the first step I'd take in truly understanding the business and growing in it." Morgan knew that working towards a technician role would be something that could provide invaluable experience as she gains work experience.
In addition to the training provided by her dad and the Conserva team, Morgan knew that she would need some added credibility for someone so young. She set her sights on becoming a Certified Irrigation Technician (CIT), because "as an 18-year-old female, I felt it was very important to start building that portfolio for myself to prove my understanding of the skill."
CITs are field technicians who install, maintain and repair irrigation systems. CITs cut and join pipes, know the limitations of different piping systems and understand basic hydraulics. They lay out and install piping and water delivery components, backflow prevention components, mechanical, hydraulic and electrical irrigation controls, and other irrigation system components
troubleshoot and repair irrigation components and systems.
In order to get prepared for the CIT exam, Morgan turned to Jay 'the Professor' Gray - an Operations Coach at Conserva Irrigation who specializes in helping franchise owners and their teams by providing insight into the daily needs of running an irrigation franchise.
"Morgan was able to attend some of our prep classes for the CIT exam earlier this year and I could tell she had enough experience to take the test even though she was only 17 at the time. Some techs take several years to get to the point where they challenge the exam," said Jay. He was one of the people who originally recommended Morgan take the exam and get certified.
Morgan had a lot of preparation once she decided to go through with taking the CIT exam.
"I had several meetings with our operations coach Jay Gray and was presented with an overwhelming amount of material. It took hours of videos and reading on top of my high school class rigor, but after really putting in the effort to learn and remember as much as I could I felt well-prepared for the test."
Morgan passed the test and received her certification in late 2022. She is the youngest woman to ever pass the exam and gain her certification. She is also the youngest person ever to earn the CIT certification.
"Honestly, I didn't know the impact it would have on the industry. Now knowing, it is still crazy to wrap my head around, but I think it is a great way to prove the diversity in this industry and a great way to start getting more women involved. I feel like there is still a lot more ground to break and I'm only getting started," Morgan said when asked about passing the CIT exam.
Everyone keeps asking her what's next now that she has accomplished this milestone. Morgan's plan is to continue to grow in the business alongside her dad, and eventually learn more about the ownership side. "It is a great opportunity that I intend on taking full advantage of. I couldn't be more grateful with every opportunity that I've been presented with at such a young age. I am very excited for the future of this industry and my future in this business. I'm thankful for everyone who has encouraged me to pursue this journey."
About Conserva Irrigation
Founded as a franchise in 2017, Conserva Irrigation is the only national outdoor irrigation company founded on the principle of water conservation. The brand is part of Empower Brands, a market-leading franchisor of premium residential and commercial outdoor living services. With nearly 181 territories operating across the country and growing, Conserva Irrigation is helping home and business owners reduce water consumption through its use of a proprietary irrigation auditing system and water-efficient irrigation products. Conserva Irrigation was recently listed on Entrepreneur Magazine's 2022 Franchise 500 list at #296, followed by recognition in Entrepreneur's 2020 Top New Franchises list at #7. Additionally, the brand was recognized among ranked on the LM 150 list of landscape management's largest landscape management companies in 2022 and the Inc. 5000 2022 ranking. For more information about Conserva Irrigation, visit ConservaIrrigation.com, IrrigationFranchise.com or EmpowerBrands.com.