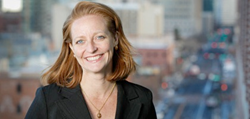 Denver, Colorado (PRWEB) August 11, 2015
Morgan Carroll, an attorney with Bachus & Schanker, recently announced she is running in November 2016 against Republican incumbent Mike Coffman for a seat in the 6th Congressional District. Carroll currently represents Colorado Senate District 29.
"This will likely be a competitive race," said Bachus & Schanker Founding Partner Kyle Bachus. "Morgan's tenacity is part of what makes her a great member of our team. She isn't afraid to fight for what she believes is right – for her clients and her constituents. She is just a terrific advocate and we couldn't be happier than to have her on our team."
Carroll has been practicing law for 15 years. For 10 years prior to joining Bachus & Schanker, she practiced alongside her mother for their law firm of Bradley & Carroll, P.C. She has focused her career on disability advocacy and helping ordinary people know and enforce their rights. Her decision to go to law school was motivated by a deep desire to help with social justice issues.
Her background of public service includes a stint in the Colorado House of Representatives from 2005 to 2008. She recently stepped down as Colorado Senate minority leader after announcing her run and previously served as president, majority leader and caucus chair of the Colorado Senate. She also serves on the Executive Committee and the Legislative Council Committee.
About Bachus & Schanker, LLC
Bachus & Schanker, LLC is a nationally recognized personal injury law firm located in Colorado with offices in Denver, Colorado Springs and Fort Collins. With a staff of 95 people, including 25 trial lawyers, Bachus & Schanker has represented thousands of clients across the country. Bachus & Schanker is committed to protecting and enforcing the rights of people injured by the negligence of others, offering to each client a level of representation and personal attention usually reserved for only the most powerful corporations. The firm supports local nonprofits through its Bachus & Schanker Cares Foundation. Visit Bachus & Schanker at http://www.coloradolaw.net/ to learn more.