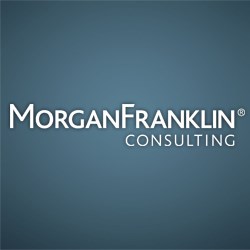 We instituted our college mentoring initiative one year ago, and I'm proud to share that it has now grown to include George Mason University, Capitol College, and Marymount University.
McLean, VA (PRWEB) July 01, 2013
MorganFranklin Consulting, a leading business consulting and technology solutions company based in McLean, Va., and London, announced that Senior Manager Alex Grohmann has been re-elected president of the Information Systems Security Association Northern Virginia Chapter (ISSA-NOVA). ISSA-NOVA, the world's largest ISSA chapter, is a member-focused organization whose goal is to ensure that its membership keeps abreast of the most recent information pertaining to information systems (IS) topics and issues. As president, Grohmann will lead the 500-member Northern Virginia Chapter, focusing on expanding the chapter's professional certification programs and college mentoring initiative.
"I am honored to have the opportunity to serve a second term as president of the ISSA Northern Virginia Chapter," Grohmann said. "I hope to expand our chapter's reach to both the Northern Virginia professional community and the next generation of IS professionals. We instituted our college mentoring initiative one year ago, and I'm proud to share that it has now grown to include George Mason University, Capitol College, and Marymount University."
Grohmann served as president of the ISSA Northern Virginia Chapter from 2012 to 2013, and he has been a member of the professional organization since 2003. With more than 17 years of experience in the technology industry, Grohmann has worked in both the public and private sectors. He joined MorganFranklin Consulting in 2012 and has been responsible for helping develop the company's technology risk solutions. He is industry-certified in several areas of technology and holds active certifications of Certified Information Systems Security Professional (CISSP), Certified Information Systems Auditor (CISA), Certified Information Security Manager (CISM), and Certified Fraud Examiner (CFE).
"Alex's extensive technology background and dedication to the community exemplify the characteristics that will make him a standout leader of ISSA-NOVA," said Bill Hughes, Managing Director and Public Sector Market Lead at MorganFranklin Consulting. "MorganFranklin is proud of Alex's hard work and well-deserved re-election as president of ISSA-NOVA, and we look forward to seeing this influential organization grow further under his leadership."
Grohmann also serves on the local chapter board of InfraGard, a nonprofit organization serving as a public-private partnership between U.S. businesses and the Federal Bureau of Investigation (FBI).
# # #
About ISSA
The Information Systems Security Association (ISSA) is a not-for-profit, international organization of information security professionals and practitioners. It provides educational forums, publications, and peer interaction opportunities that enhance the knowledge, skill, and professional growth of its members. To learn more, visit http://www.issa.org.
About MorganFranklin Consulting
MorganFranklin Consulting is an international services firm that delivers business consulting and technology solutions to public companies, fast-growing private companies, and government clients. Since 1998, MorganFranklin professionals have provided business operations, financial advisory, and IT consulting expertise and assistance across a wide range of industries. The firm's solutions focus on helping clients develop and implement strategies and plans to manage growth, achieve compliance, and transform business operations. MorganFranklin has offices in Washington, D.C., Dallas, and London, and has supported clients in North and South America, Europe, and Asia.
In 2012, MorganFranklin was named to Consulting magazine's "Best Firms to Work For" list and the Inc. 500|5000 list of the fastest-growing private companies in America. Third-party customer satisfaction surveys highlight the company's reputation for being hands-on, flexible, and skilled at bringing diverse groups together to complete projects on time and within budget. To learn more about the company visit http://www.morganfranklin.com.
MorganFranklin Consulting is the brand name referring to the global organization of MorganFranklin Corporation and MorganFranklin Limited, a UK subsidiary serving as the EMEA headquarters of MorganFranklin Corporation.