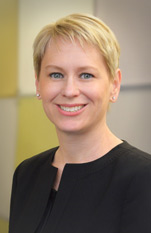 Amy's responsive, hands-on approach is reflective of a true business partner, and we are excited to utilize her talents and versatile skills to better serve clients and achieve our growth ambitions.
McLean, Virginia (PRWEB) June 17, 2014
Amy Hover, a recognized expert in strategy, finance, and operations, has been appointed Managing Director at MorganFranklin Consulting, a D.C.-based execution-focused business consulting firm and professional advisor. As Managing Director, Hover will provide practical solutions to clients' complex challenges by connecting MorganFranklin's full suite of solution offerings to achieve clients' strategic objectives related to top-line growth initiatives, operational efficiencies, and cost reduction. She brings deep experience leading complex, global projects at some of the world's largest names in retail, consumer packaged goods, telecommunications, technology, professional services, and higher education. Hover is a dynamic leader and communicator who understands the link between financial results, forecasting, business risks, strategies, and opportunities.
Hover will also serve as Practice Executive for the MorganFranklin Women's Initiative, which is committed to creating a strong base of connected women leaders within the organization and the community. She comes to MorganFranklin from PricewaterhouseCoopers (PwC), where she served for more than 19 years in various positions in Washington, D.C., and Portland, Ore. Admitted to the partnership in 2009, Hover served a number of diverse industry clients and most recently served as a Pacific Northwest (PNW) Retail & Consumer (R&C) Assurance Partner as well as an Assurance Partner in PwC's Sustainable Business Solutions (SBS) practice.
"On behalf of the entire MorganFranklin team, I am delighted to welcome Amy to our firm as a core leader in our Strategy, Finance & Operations solution offering," said C.E. Andrews, CEO of MorganFranklin Consulting. "Amy is a thoughtful leader who embraces a collaborative style to motivate teams and clients to improve performance and identify operational and financial opportunities. Her responsive, hands-on approach is reflective of a true business partner, and we are excited to utilize her talents and versatile skills to better serve clients and achieve our growth ambitions."
During her tenure with PwC, Hover served international and domestic public, private-equity-owned, and private clients, leading assurance and advisory projects focused on improving operating effectiveness and the bottom line. She served as the lead engagement partner for several R&C growth companies with revenues between $300 million and $1 billion, with additional focus on IPO readiness. Her experience and skill set include SEC reporting, process and internal control optimization, contract and vendor compliance, management reporting effectiveness, and corporate responsibility reporting. Notable clients include a Fortune 500 multibillion-dollar global retailer, multinational actuarial services firm, multinational telecommunications company, and public and private higher education institutions.
"Client service is rooted in the ability to listen to multifaceted issues and collaborate with stakeholders to allow for innovation and ultimately a clear path forward. These ideals are the foundation of MorganFranklin's business, and I look forward to combining my expertise across our suite of service offerings—Strategy, Finance & Operations; Accounting & Transaction Services; Information Management & Technology; and Risk & Compliance—to deliver the right solutions to our clients," Hover said. "I firmly believe that exceptional client service is grounded in trust and integrity; it requires a caring nature, passionate drive, enthusiasm, teaming, and willingness to roll up your sleeves to meet your clients' objectives and exceed their expectations."
Hover holds a Bachelor of Science degree in business administration from the University of Richmond. She is licensed as a Certified Public Accountant (CPA) in Maryland, Virginia, New York, and Oregon and is a member of the American Institute of Certified Public Accountants (AICPA). Hover serves as a national board member and audit committee chair for Friends of the Children, a nonprofit organization that provides the most vulnerable children with intensive and long-term mentors to break the cycle of poverty and abuse. She previously served on the board of directors of the Juvenile Diabetes Research Foundation (JDRF) Oregon/SW Washington Chapter.
# # #
About MorganFranklin Consulting
MorganFranklin is a strategy and execution-focused business consulting firm and professional advisor. The company provides strategic thinking and hands-on support to help public companies, fast-growing private companies, and government clients manage growth and maximize performance. The firm delivers strategy, accounting and transaction services, risk and compliance, and information management and technology solutions. MorganFranklin has offices in Washington, D.C., and London, and has supported clients in North and South America, Europe, Asia, and the Middle East. Learn more at http://www.morganfranklin.com.
MorganFranklin Consulting is the brand name referring to the global organization of MorganFranklin Consulting, LLC and MorganFranklin Limited, a UK subsidiary serving as the EMEA headquarters of MorganFranklin Consulting, LLC.