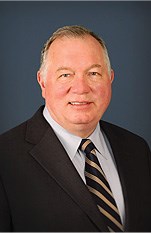 The honorees on the Power 100 list are certainly among D.C.'s most innovative and influential business leaders, and it is a privilege to receive such flattering recognition.
McLean, Virginia (PRWEB) October 30, 2013
MorganFranklin Consulting, a leading business consulting and technology solutions company based in McLean, Va., and London, today announced that the firm's CEO C.E. Andrews has been named one of Washington Business Journal's Power 100. The annual list recognizes the Washington, D.C., region's most influential business leaders, ranking them based on level of influence and respect as well as the ability to get things done.
In the words of the Washington Business Journal, "His is not a household name yet, but you'll probably be hearing more and more about C.E. Andrews. In April he was appointed CEO at MorganFranklin, a fast-growing McLean-based consulting and technology solutions firm founded in 1998. He's taking over where the firm's three founders left off—and his charge is to continue the firm's growth … Andrews is no stranger to the consulting world."
Since Andrews took the helm at MorganFranklin, the firm has made its third appearance on the Inc. 500|5000 list of the nation's fastest-growing private companies, reporting 66 percent revenue growth from 2009 to 2012. Earlier this week, the consultancy also won a 2013 Inc. Hire Power Award, ranking as the No. 9 job creator in Virginia among private companies.
"I am extremely honored to be included in the Washington Business Journal's 2013 Power 100 list, and I am humbled to find my name among such prestigious company," Andrews said. "The honorees on the Power 100 list are certainly among D.C.'s most innovative and influential business leaders, and it is a privilege to receive such flattering recognition. I share this honor with the entire MorganFranklin Consulting team, and I look forward to continuing to work hand in hand with the team and our clients to implement long-term, sustainable growth."
A respected figure in the local business community, Andrews has a long history of leadership roles in prominent consulting and financial services organizations. Before joining MorganFranklin Consulting, he served as President and Chief Operating Officer of RSM McGladrey, Inc. from June 2009 to March 2012. From 2003 to 2008, Andrews served in various positions at SLM Corporation (Sallie Mae), including President, CEO, Chief Financial Officer, and Executive Vice President, among others. From 1974 to 2003, he was a key leader with the public accounting firm Arthur Andersen LLP, serving as Partner from 1984 to 2003. An active member of the D.C. community, Andrews also serves on numerous corporate boards and as a Director at Junior Achievement, Inova Health Systems Foundation, and The Global Good Fund.
The Power 100 Class of 2013 will be celebrated at a private reception honoring the movers and shakers in Washington business. The Nov. 8 issue of the Washington Business Journal will include a special section on the 2013 Power 100 list. Complete results, including a slideshow and winner profiles, can be found at http://www.bizjournals.com/washington/.
# # #
About MorganFranklin Consulting
MorganFranklin Consulting is an international services firm that delivers business consulting and technology solutions to public companies, fast-growing private companies, and government clients. Since 1998, MorganFranklin professionals have provided business operations, financial advisory, and IT consulting expertise and assistance across a wide range of industries. The firm's solutions focus on helping clients develop and implement strategies and plans to manage growth, achieve compliance, and transform business operations. MorganFranklin has offices in Washington, D.C., and London, and has supported clients in North and South America, Europe, and Asia.
MorganFranklin was named to Consulting magazine's 2012 "Best Firms to Work For" list and made the 2013 Inc. 500|5000 list of the fastest-growing private companies in America. Third-party customer satisfaction surveys highlight the company's reputation for being hands-on, flexible, and skilled at bringing diverse groups together to complete projects on time and within budget. To learn more about the company visit http://www.morganfranklin.com.
MorganFranklin Consulting is the brand name referring to the global organization of MorganFranklin Corporation and MorganFranklin Limited, a UK subsidiary serving as the EMEA headquarters of MorganFranklin Corporation.