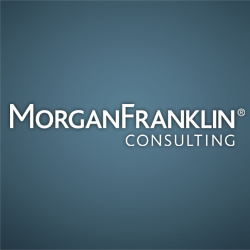 With our ESOP, MorganFranklin is writing a new chapter and redefining management consulting and what it means to put employees first.
McLean, Virginia (PRWEB) January 11, 2016
MorganFranklin Consulting, a leading business consulting and technology solutions company based in the Washington, D.C., area, announced that the firm is now sharing beneficial ownership with employees by becoming 100% owned by an Employee Stock Ownership Plan (ESOP) Trust. Today's ESOP announcement marks the next step in the firm's evolution in ownership. As an employee-owned company, MorganFranklin will continue to operate under the same business model and management structure.
"I am thrilled to usher in this new era at MorganFranklin through our Employee Stock Ownership Plan. People are the core of our business and the consulting profession, and it is extremely important to us that we reward our employees for their passion and steadfast dedication to client service by connecting their everyday work to a higher purpose while also retaining our unique people- and client-focused culture," said C.E. Andrews, CEO of MorganFranklin. "With our ESOP, MorganFranklin is writing a new chapter and redefining management consulting and what it means to put employees first. We always ask our people to fully understand our clients and think with them like 'owners' when delivering our solutions. Now our people really are owners. We do things differently here, and we are charting a new path for ownership and employee investment in the consulting world."
Andrews, a renowned leader in the consulting and financial services industries, joined MorganFranklin as CEO in early 2013 after serving as President of RSM McGladrey, Inc., CEO at SLM Corporation/Sallie Mae, and Global Managing Partner for the Worldwide Audit and Business Advisory Practice at Arthur Andersen LLP.
Viewed as one of the fastest-growing private companies and consulting firms in the United States, in 2015 MorganFranklin was named to the inaugural Consulting magazine "Fastest Growing Firms" list and marked its fourth consecutive appearance on the Inc. 5000 list. In December, MorganFranklin relocated its corporate headquarters to a new state-of-the-art, highly collaborative space in Tysons Tower just outside Washington, D.C. Additionally, in September, the firm expanded nationally by opening a Southeast Regional Office in Atlanta to better serve a growing customer base that spans nearly 20 states nationwide.
# # #
About MorganFranklin Consulting
MorganFranklin is a strategy and execution-focused business consulting firm and professional advisor. The company provides strategic thinking and hands-on support to help public companies, fast-growing private companies, and government clients manage growth and maximize performance. The firm delivers strategy, accounting and transaction services, risk and compliance, and information management and technology solutions. MorganFranklin is headquartered in the Washington, D.C., area and has supported clients in North and South America, Europe, Asia, and the Middle East. http://www.morganfranklin.com
MorganFranklin Consulting is the brand name referring to the global organization of MorganFranklin, Inc. and its subsidiary MorganFranklin Consulting, LLC.