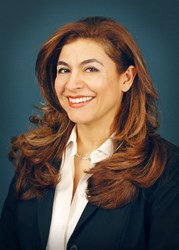 Nadine's extensive technical background and hands-on experience with some of the most influential government agencies will make her an exceptional leader of AFERM
McLean, VA (PRWEB) October 07, 2013
MorganFranklin Consulting, a leading business consulting and technology solutions company based in McLean, Va., and London, announced that Director Nadine Cipriani has been elected treasurer of the Association for Federal Enterprise Risk Management (AFERM). AFERM, a professional organization dedicated to the advancement of federal Enterprise Risk Management (ERM), provides specific programs and opportunities to educate members and stakeholders on the benefits, tools, and leading practices of Federal ERM.
"I am honored to have the opportunity to serve as treasurer of AFERM for the 2014 term," Cipriani said. "I am looking forward to a successful and productive year, and am excited to see the board's plans for 2014 unfold."
Cipriani has over 17 years of experience providing leadership, strategic direction, and technical expertise on complex risk assessment, business process improvement, and organizational effectiveness. Ms. Cipriani developed and implemented solutions that improved operations in order to meet requirements of the President's Management Agenda, and worked with federal agencies to interpret new laws and regulations. Recently, Ms. Cipriani supported the development and establishment of an operational risk management office, developing a framework and supporting metrics to identify and monitor agency operational risk.
"Nadine's extensive technical background and hands-on experience with some of the most influential government agencies will make her an exceptional leader of AFERM," said Bill Hughes, Managing Director and Public Sector Market Lead at MorganFranklin Consulting. "MorganFranklin is proud of Nadine's hard work and well-deserved election as treasurer."
# # #
About AFERM
The purpose of the Association is to be a professional organization dedicated to the advancement of federal Enterprise Risk Management (ERM). The Association shall serve its members by providing a forum for discussion of issues relevant to participants in the federal risk management profession, sponsoring appropriate educational programs, encouraging professional development, influencing governmental risk management policies and practices and serving as an advocate for the profession. The Association serves government officials and the public by sponsoring efforts to ensure full and fair accountability for management of risk in achieving organizational objectives, and by providing a variety of pro bono services throughout the United States and its territories that support that end. To learn more, visit http://www.aferm.org.
About MorganFranklin Consulting
MorganFranklin Consulting is an international services firm that delivers business consulting and technology solutions to public companies, fast-growing private companies, and government clients. Since 1998, MorganFranklin professionals have provided business operations, financial advisory, and IT consulting expertise and assistance across a wide range of industries. The firm's solutions focus on helping clients develop and implement strategies and plans to manage growth, achieve compliance, and transform business operations. MorganFranklin has offices in Washington, D.C. and London, and has supported clients in North and South America, Europe, and Asia.
MorganFranklin was named to Consulting magazine's 2012 "Best Firms to Work For" list and made the 2013 Inc. 500|5000 list of the fastest-growing private companies in America. Third-party customer satisfaction surveys highlight the company's reputation for being hands-on, flexible, and skilled at bringing diverse groups together to complete projects on time and within budget. To learn more about the company visit http://www.morganfranklin.com.
MorganFranklin Consulting is the brand name referring to the global organization of MorganFranklin Corporation and MorganFranklin Limited, a UK subsidiary serving as the EMEA headquarters of MorganFranklin Corporation.